Major British sportives brace themselves for entry rush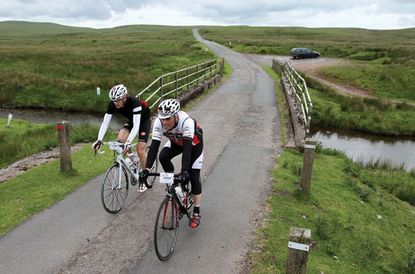 Three of the biggest sportive events in the UK open their entries online next week, and each one is getting ready for another sell out.
Online entry for both the Dragon Ride and Cheshire Cat events go live at 9am on Thursday, November 1. Together they account for 7,500 riders, and both could sell out within a day.
Three days before that the Dartmoor Classic opens its online entry with an increased capacity of 3,000 riders.
Virgin Money Cyclone Challenge
The last weekend in June sees Newcastle host one of the biggest weekends of cycling in the UK. Road race, crits, womens races, a family ride, and of course a huge sportive. The event is so big it now stretches over four days. The sportive doesn't sell out as fast as some of the others, but it's still worth getting your name down early if you want to ride.
Date: Saturday June 29
Routes:33 mile, 63 mile, 104 mile
Number of places: 4,000
Start / Finish:
Website: www.virginmoneycyclone.co.uk
Entries open: Thursday, November 1
Wiggle Dragon Ride
The biggest event in the UK will host its tenth edition next summer and organisers are expecting to see 5,000 riders taking to the roads of South Wales, up 500 from this year. A women only Cycletta event will be run on the shortest Corto route in 2013, meaning all male Dragon Riders will have to tackle at least the Medio Fondo.
Date: Sunday June 9
Routes: Corto Fondo - 37km (Cycletta event, women only), Medio Fondo 12km, Gran Fondo 206km
Number of places: 5,000
Start / Finish: Margam Park, South Wales
Website: www.wiggledragonride.com
Entries open: 9am, Thursday November 1
Wiggle Cheshire Cat
Shunning a more popular summer date, it's testament to the event that the Cheshire Cat is so popular even with such an early spring date. Maybe it's early season hubris, maybe it's the route, or maybe it's the inclusion of Mow Cop, the climb so steep that only 50 per cent of the entrants manage to ride up without stopping and putting their foot down.
Date: Sunday March 24
Routes: 30miles, 62miles, 100miles
Number of places: 3,000
Start / finish: Alexandra Stadium, Crewe
Website: www.kilotogo.com
Entries open: 9am, Thursday November 1


Dartmoor Classic
Run on roads that every cyclists should cycle on once in their life, the Dartmoor Classic has slowly grown in to one of the most popular events in the country. Still run by a cycling club rather than a slick new events company, the event retains a friendly, local feel to it. Parts of the route aren't that friendly though, some of the hills in this part of the country are leg breakers.
Date: Sunday June 23
Routes: 65miles, 104miles
Number of places: 3,000
Start / finish: Kingsteignton, Newton Abbot
Website: www.dartmoorclassic.co.uk
Entries open: 9am Monday October 29
Thank you for reading 20 articles this month* Join now for unlimited access
Enjoy your first month for just £1 / $1 / €1
*Read 5 free articles per month without a subscription
Join now for unlimited access
Try first month for just £1 / $1 / €1