More gold for British starlets at European track championships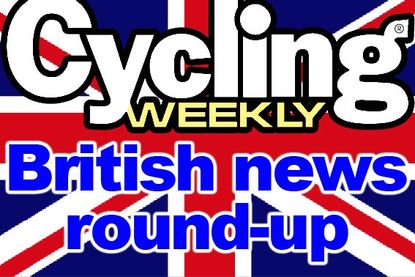 More gold for British talents at European track championships
There was more gold for Great Britain on day four of the European track championships in Portugal, as John Paul was crowned junior sprint champion, beating German rival Max Niederlag two-nil in the gold medal ride-off.
This ranks as the best performance of the 18 year old's nascent career, which has already seen race for Scotland at the Commonwealth Games last autumn.
It's Great Britain's sixth gold medal at the Anadia Velodrome so far, helped by a gold rush in the pursuit events.
Yesterday Victoria Williamson continued her impressive sprinting showing, taking silver in the junior women's 500-metre time-trial. Josh Papworth took bronze in the junior men's point race.
In U23 competition, Katie Colclough claimed silver in the point's race, while Jon Mould scored a gutsy bronze in the men's event.
As we went to press, team sprint pairing Jess Varnish and Becky James went into the bronze-medal ride, while Simon Yates was sixth in the men's points race.
The championships finish on Sunday, with many of the younger riders expected to go on to compete at the junior world track championships (August 17-21) in Moscow.
Team Sky men look for qualifying points on Poland

On Sunday, Steve Cummings, Chris Froome, Peter Kennaugh and Ian Stannard are scheduled to race the Tour of Poland (July 31-August 6).
Considering the amount of big-name riders elsewhere or taking time off after the Tour, it's a prime opportunity to score important qualifying points for the world championships in Copenhagen and the 2012 Olympic road race.
Currently, Great Britain sits ninth - that would be high enough in the rankings for eight riders in September, but only five of the necessary eight individua scorers are on the scoreboard.
After his breakthrough result at the Route du Sud, Kennaugh is the most likely candidate for a top-ten overall finish.
Meanwhile, there's no rest for Garmin-Cervelo rider David Millar. After a week recovering from the Tour de France, he'll race the Clasica San Sebastian tomorrow, as the only Briton on the start list.
Kennaugh: chasing Tour of Poland points


Olympic talents look to 2012

With just under a year to go before the Olympics, Britain's young talents are looking ahead to the 2012 Games.
Londoner and world team pursuit champion Laura Trott said: "Being from down that way, of course it makes it a big deal to me," she said in a press release.
"It's a full on home Olympics. It's crazy thinking about it, that I could be going into town on the train, to ride in the world's biggest bike race and it's only a year away.
Twelve months ago, Trott took ominium gold at the world junior track championships. Her rise to the top of the senior track ranks since then has been meteoric.
"This time last year I wouldn't have imagined I would have even been close to going to 2012, I didn't even think I'd be on the long list. It's just mad how things change," the 19 year old said.
Her fellow rainbow jersey and Olympic hopeful Dani King said: "It's incredible, it's been an absolute whirlwind for me. Sometimes it's hard to get your head around it but I'm going to keep training really hard and hopefully I'll make the team. It's hard to put into words what it will be like if I'm selected."
British Cycling chief executive Ian Drake emphasised that it's more than about just winning medals. "We have a much wider role than that and our whole plan is oriented around inspiring participation and using our elite success to drive more people to get into sport," he said.
"The opportunity to host an Olympic Games brings with it the tremendous responsibility of legacy. Our vision is clear for legacy - we want to get to 2012 and have a nation of active cyclists watching British cyclist succeed, and not a nation of couch potatoes."
British Cycling unveil MTB World Championships XC squad

British Cycling has unveiled the team selected to represent Britain in the Cross Country and Relay disciplines at the 2011 UCI Mountain Bike WorldChampionships.
The squad includes recently crowned national champion Liam Killeen and Oli Beckingsale.
The U23 category includes 21 year-old Annie Last who has ridden at Elite World Cup level this year. Tracy Moseley, the women's downhill national champion and World Cup leader, will form part of the relay team.
The championships take place in Champéry, Switzerland from August 31-September 4.
The squad for the Downhill, Four Cross and Trials will be selected after the final UCI World Cup event of the season.
Great Britain: full cross country Squad
Elite Men
Liam Killeen
Oli Beckingsale
U23 Men
David Fletcher
Kenta Gallagher
U23 Women
Annie Last
Junior Men
Grant Ferguson
Matt Sumpton
Junior Women
Bethany Crumpton
Katy Winton
Relay
Grant Ferguson
David Fletcher
Kenta Gallagher
Tracy Moseley
Thank you for reading 20 articles this month* Join now for unlimited access
Enjoy your first month for just £1 / $1 / €1
*Read 5 free articles per month without a subscription
Join now for unlimited access
Try first month for just £1 / $1 / €1