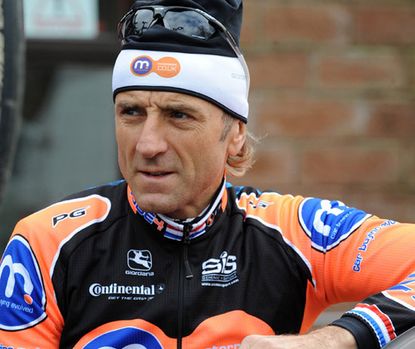 British continental team Motorpoint is mixing with the first division teams at the Tour de Mumbai this week in India.
"They've raced with them before at the Tour of Britain and the Tour of Ireland. They know the other guys quite well," said team director, Chris Truett.
"Ian Bibby got second in the Tour of Britain last year, again beating the big boys. Our lads are not overshadowed by anybody. Our guys are here to perform and yesterday's results show they are mixing it with the big boys."
Bibby, 24, finished 22nd in the first of two legs yesterday in Nashik. His team-mate Jonathan McEvoy finished 11th. Italian Elia Viviani (Liquigas-Cannondale) won the race ahead of Australian Robbie McEwen (RadioShack).
"I was pleased with the team's performance yesterday, we rode the course twice since we got here a bit earlier to climatise with the weather and jet lag," added Truett. "We knew the race was going to come to a bunch sprint, so we worked to have a lead out for Ian Bibby. Unfortunately, Ian lost Jon McEvoy's wheel, but we still had three guys in the top 15."
The Motorpoint riders and team manager Malcolm Elliott rode around three hours today from Nashik, India's holy city, to Mumbai, host of tomorrow's race. Only Pete Williams took the bus with most other teams due to a sore back.
"He is just suffering a bit. He went to Australia for a bit ahead of the season and missed some of his core work, which is why his back is bothering him. It also has to do with a new bike, pedals, shoes... That's why he is taking it easy. He decided to rest today while the other lads are riding to Mumbai."
Truett looks forward to the 104.4-kilometre Mumbai race and the rest of the season.
"In Mumbai, it is more of a crit circuit and it will suit our lads. We've tried to combine this week with training and racing, that's why we came here two days early and we are riding at least three hours daily. It's a good thing to do while we are here.
"We are waiting to hear back from some different tour organisers to see where we will race. Next, we are racing Cinturón, a four-day stage race in Mallorca. That's our first goal."
Team Motorpoint will present itself on February 17 at the sponsor's headquarters in Derby. Afterwards, the team will travel to Majorca to train ahead of the Cinturón race.
Thank you for reading 20 articles this month* Join now for unlimited access
Enjoy your first month for just £1 / $1 / €1
*Read 5 free articles per month without a subscription
Join now for unlimited access
Try first month for just £1 / $1 / €1