Oldham wins Bradford round of National Trophy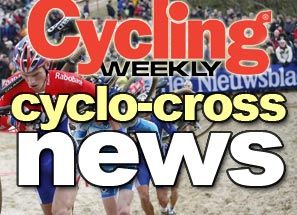 The race for the 2011-12 National Trophy Series is now a two-horse race after Paul Oldham (Hope Factory Racing) produced a battling display to take victory in the penultimate round at Peel Park in Bradford.
Oldham, the 34-year-old from Colne in Lancashire, took his first maximum 50-point haul of the season with the Belgian visitors who have graced previous rounds absent.
His lead in the overall standings is now 18 points from Jody Crawforth (Hargroves Cycles), who had to settle for third place after Nick Craig (Scott UK) mastered the muddy condition superbly.
But both Oldham and Craig had problems throughout the race.
Oldham smashed his rear mech and had to run 400 yards to the pits for a new machine. He dropped to fourth, but still battled back to take the win.
And Craig crashed on the first lap and dropped out of the top 20 placings, making his battling ride back to second place one of the highlights of the day.
In other categories, Hannah Payton (Kinesis Morvelo Project) is leading the women's standings after previous leader Adela Carter did not ride. Payton was only fifth on the day though, with Annie Last (Boardman Elite) taking the win by just six seconds from Louise Robinson (Stourbridge CC).
Joe Moses (Bradford Olympic) was top junior and leads the series, while Jim Bryan (Zepnat RT) is similarly leading the over-40s after winning that category.
Elsewhere, CC Abergavenny's Joe Lally won the tenth round of the Welsh league staged at Govilon Football Club near Abergavenny, crossing the line 40 seconds clear of Cardiff JIF rival Adam King, while Phil Morris (Dambusters) was third, another 16 seconds off the pace.
27-year-old Lally has proved superbly consistent this season, only missing out on a podium finish once on his way to overall victory in the series with one round to go.
His main challenger for the title, Andrew Baum of Cwmcarn Paragon, had looked set to battle with Lally once again after edging him out by just six points in 2010, but a broken collar bone ended his hopes of defending the league and left the way clear for Lally, from Powys.
In the Wessex League, Michael Cotty (Wheelbase) notched up his fourth victory at Rutherford Appleton Laboratory at Harwell near Didcot, holding off Dan Lewis (RAF CC) by more than a minute and a half.
North of the border, Ballater's Dan Whitehead scored a double victory in the Scottish League, winning rounds seven and eight at Glengorm Castle on the Isle of Mull.
Whitehead - who was beaten to the Scottish Championship title last weekend - made amends for his loss in the title race with his double-winning weekend, and beat newly-crowned Scottish Champion Gareth Montgomerie (GT Racing UK) in Saturday's race.
Craig Hardie (Hardie Bikes) was fourth on Saturday, but moved up to second 24 hours later, although Whitehead won comfortably by more than two and a half minutes.
And Mark Cotton continued his domination of the Lincolnshire League when he won by almost two miutes from Ashfield Road Club's Lawrence Frost in the 12th round at the Winterton Showground.
Related links
Crawforth aiming for National Trophy lead in Bradford
Thank you for reading 20 articles this month* Join now for unlimited access
Enjoy your first month for just £1 / $1 / €1
*Read 5 free articles per month without a subscription
Join now for unlimited access
Try first month for just £1 / $1 / €1