Peter Sagan presents posy to pinched podium girl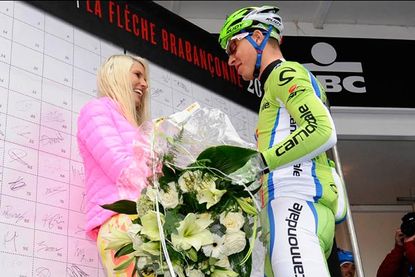 Peter Sagan (Cannondale) met in person with podium girl Maja Leye today to apologise for his Tour of Flanders podium pinch. Ahead of the Brabantse Pijl in Overijse, Belgium, he presented her with a flower bouquet.
"Like I've already said, I didn't want to offend anyone," Sagan on the podium after he gave her flowers. "It was just to have a laugh, but others took it differently. For sure, I wanted to take this chance to apologise."
A week and a half ago at Flanders, Sagan pinched Leye's butt while she stood beside winner Fabian Cancellara (RadioShack-Leopard) on the podium. Photographers captured the incident and their photographs quickly travelled through social networks.
The 23-year-old Slovak used Twitter and Facebook to issue Leye apologise. He wrote on Twitter the same day as the race, "Was not my intention to disrespect women on the podium. Just a joke, sorry if someone was disturbed about it.
With pressure mounting, he issued a more sincere video message via Facebook the next day. "It was wrong of me and I wasn't thinking when I was up on the podium. I never should've done it. I'm so sorry and I apologise to Maja and anyone else I have offended. ... I promise to act more respectfully in the future."
Leye, 25, responded that it was "completely inappropriate" but accepted his apology.
Maja Leye with the flowers given to her by Peter Sagan
Flanders classics
Sagan is known for his victory celebrations. When he won Ghent-Wevelgem, he rode a wheelie just after the finish line. The podium pinch, however, went too far for some.
Flanders Classics organises Flanders, Ghent-Wevelgem and other races including today's Brabantse Pijl. After skipping Paris-Roubaix, it is Sagan's first race back and another race that features podium girl Leye.
With Leye still helping present teams on the podium, Sagan spoke to journalists about his actions.
"I was just to joking around, I didn't think the others would take it the way they did," Sagan explained.
"They all want me to do something for a laugh, like my finish line wheelies, but then it's not good if I do these other things. I don't know, I'll have to come up with something else."
Sagan will have his chance to celebrate again. Along with Philippe Gilbert (BMC Racing) and Thomas Voeckler (Europcar), he is a favourite for the 199.9km race east of Brussels.
"Now I hope the story is finished and I can just get on with racing."
Related links
Peter Sagan issues apology for podium pinch
Thank you for reading 20 articles this month* Join now for unlimited access
Enjoy your first month for just £1 / $1 / €1
*Read 5 free articles per month without a subscription
Join now for unlimited access
Try first month for just £1 / $1 / €1