Phinney aiming for Giro final time trial win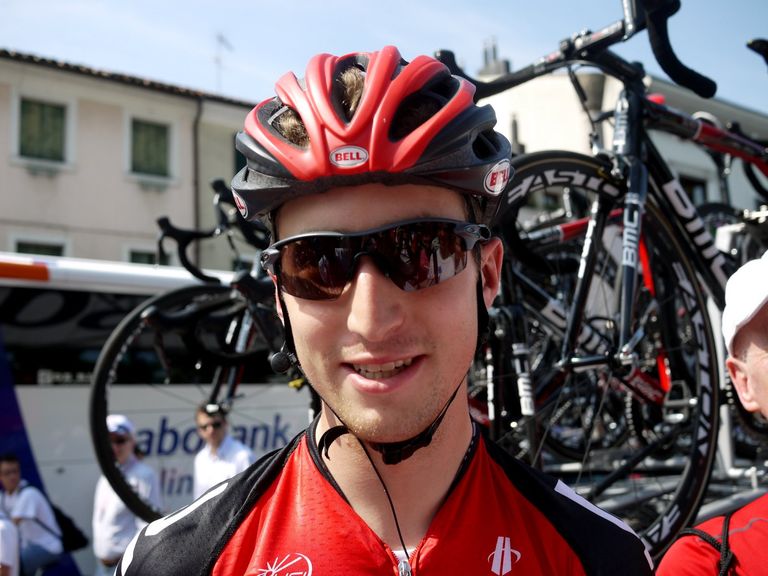 Taylor Phinney, after starting on a high, is pushing towards the end of the Giro d'Italia. The American of BMC Racing is hoping to complete the race with a time trial win, a bookend to his ride into the pink jersey on day one.
"It's just one day at a time because we have to make it there first and right now, we have a lot more climbing ahead," Phinney told Cycling Weekly. "I know on paper I have a good chance to win. I'd like to do that, but it's just mentally getting through these next days. I have to push myself hard enough after three weeks of digging myself into a big hole."
Phinney finished today's to Alpe di Pampeago stage in one of the last groups, quite the opposite to how he started the race. He won the Herning time trial ahead of Geraint Thomas (Sky) and the right to wear the pink jersey. He defended and charmed Italian fans with his fluent grasp of their language.
His run ended in Verona due to a carsh two days earlier in stage three. Roberto Ferrari (Androni) crashed him, Mark Cavendish (Sky) and others on the sprint in Horsens. Because of a sprained ankle, he was unable to help his team keep the pink jersey in the Verona time trial. He lost the jersey and resumed his place in the pack.
Phinney won the individual pursuit World Championships and as an under-23 rider, the time trial World Championships and Paris-Roubaix twice. However, he's still only in his second year as a professional and the Giro d'Italia is only his second Grand Tour.
"I'm pretty tired," Phinney said. The fans outside the bus recognised him and nearly knocked him over for his autograph. He seemed ready to growl.
"You just learn that every day, you wake up, pretty grumpy and tired and you just have to push through it and get on your bike. It's weird because when you're riding easy you kind of feel like shit, on the climbs you start going hard... After a couple of weeks, you feel better and better. It's interesting, because you're mentally so fatigued and your body is compensating every day and pushing through it.
"It's more of mental thing than a physical thing. You get to the last week, if you want to complete it, then it's mostly up to your mind to be willing to suffer enough to get through it."
The time trial came back to mind. He's been looking over the map in the 'Garibaldi' road book. "It has a lot of turns," he added. "It's good for me and I'll have my chance to win."
Giro d'Italia 2012: Latest news
Kennaugh withdraws from Giro, next stop Olympics
Giro's Stelvio stage may be shortened due to weather
Izagirre wins on Grand Tour debut
Cavendish silences Cipollini
Sky tightens grip on white jersey
Rodriguez versus Hesjedal in Giro title fight
Cavendish's Sky lead-out still on learning curve
Orica-GreenEdge to strengthen sprint train in Tour de France
Schleck struggles on with dislocated shoulder
Rodriguez up against more experienced rivals in Giro
Bak from worker to winner at the Giro
Giro d'Italia 2012: Live coverage
Giro d'Italia 2012 live text coverage and schedule
Giro d'Italai 2012 stage 13 live text coverage
Giro d'Italia 2012 stage 12 live text coverage
Giro d'Italia 2012 stage 10 live text coverage
Giro d'Italia 2012 stage six live text coverage
Giro d'Italia 2012 stage four live text coverage
Giro d'Italia 2012: Stage reports
Stage 19: Kreuziger bounces back with Giro stage win
Stage 18: Guardini beats Cavendish in final Giro sprint
Stage 17: Rodriguez wins stage to consolidate lead
Stage 16: Izagirre claims Basque breakaway victory
Stage 15: Rabottini takes tough win in Giro
Stage 14: Amador wins Giro's first high mountain stage as Hesjedal reclaims lead
Stage 13: Cavendish makes it three
Stage 12: Bak attacks to win
Stage 11: Ferrari wins Giro stage on ride to redemption
Stage 10: Rodriguez wins thrilling finale to take leadStage nine: Ventoso wins in Frosinone as Goss and Cavendish fall
Stage eight: Pozzovivo takes another Giro win
Stage seven: Hesjedal moves into Giro lead
Stage six: Rubiano solos to epic Giro stage win
Stage five: Cavendish bounces back for another stage win
Stage four: Garmin-Barracuda win TTT to take lead
Stage three: Goss wins in Horsens as Cavendish and Phinney crash
Stage two: Cavendish wins in Herning
Stage one: Phinney wins time trial
Giro d'Italia 2012: Photo galleries
Stage 19 photo gallery
Stage 18 photo gallery
Stage 17 photo gallery
Stage 16 photo gallery
Stage 15 photo gallery
Stage 14 photo gallery
Stage 13 photo gallery
Stage 12 photo gallery
Stage 11 photo gallery
Stage 10 photo gallery
Stage nine photo gallery
Stage eight photo gallery
Stage seven photo gallery
Stage six photo gallery
Stage five photo gallery
Stage four photo gallery
Stage three photo gallery
Stage two photo gallery
Stage one photo gallery
Giro d'Italia 2012: Blogs
Charly Wegelius' Giro blog: Conserving energy for the final week
Charly Wegelius' Giro blog: Holding on to the lead
Charly Wegelius' Giro blog: Getting the team time trial right
Giro moto blog: Hurray for rest day
Giro moto blog: Stage 10
Giro d'Italia 2012: Teams and riders
Giro d'Italia 2012 start list
Giro d'Italia 2012: TV guide
Giro d'Italia 2012: British Eurosport TV schedule
Related links
Giro d'Italia 2012: The Big Preview
Cycling Weekly's Giro d'Italia section