Police road safety checks not just targetting cyclists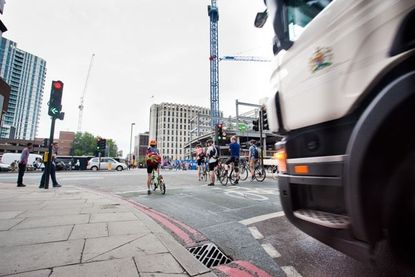 A 'blanket' road safety event, incorrectly labeled as targeting cyclists alone, has taken place today as part of Road Safety Week.
The event saw officers in central London stopping all road users and making safety checks or giving advice, as well as issuing tickets to those seen to be breaking the law.
Meanwhile, extra police officers have been deployed at Bow Roundabout to patrol and enforce road safety following last week's cyclist fatality at the notorious junction.
Sgt Simon Castle, of the Met's Traffic Unit and Cycle Task Force, said of the operation at Vauxhall Bridge: "It was a blanket operation against all road users - whoever is causing the danger and committing offences will be dealt with in an appropriate fashion."
He added extra local officers have been sent to Bow: "We have got extra officers around Bow roundabout out on the road. They have borrowed bikes and are doing patrols and safety advice to those taking risks and those at risk."
Cyclists are being advised to wear hi-vis and helmets as part of the Road Safety Week operation, a suggestion not welcomed by all. One Twitter user, @hatapota, said today:
"Got stopped by police today suggesting I wear hi-viz in case drivers not wearing glasses can't see me. So wrong. #cyclists @metpoliceuk".
However, Castle defended this position, saying: "It is good safety advice; look at the lady who had that VW pulled off her in Spitalfields, she said she would be dead if it weren't for her wearing a crash helmet."
According to the Evening Standard more than half of lorries stopped as part of the event were found to be breaking HGV safety rules, most commonly due to drivers exceeding their driving time limits.
Following the death of a cyclist in Camberwell today following collision with a lorry, many, including London Green Party leader, Jenny Jones, are calling for city centre lorry bans during rush hour.
The theme of this year's annual Road Safety Week, co-ordinated by road safety charity Brake, was distraction. Drivers are also being advised not to use hands free kits as part of this, because of the 'distraction element'.
Related links
Cyclist dies after incident involving lorry in London
Thank you for reading 10 articles this month* Join now for unlimited access
Enjoy your first month for just £1 / $1 / €1
*Read 5 free articles per month without a subscription
Join now for unlimited access
Try first month for just £1 / $1 / €1