Pooley joins Bigla team with eye on World Champs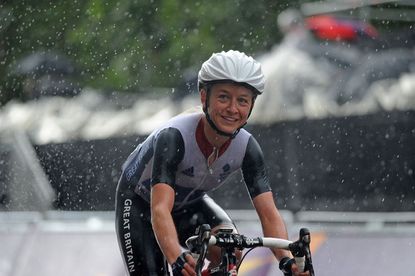 Emma Pooley silenced rumours that she would retire from cycling early by announcing her intentions to race next season with team Bigla. She will take a low-key approach to build for the World Championship time trial and the 2016 Rio Games, putting her Ph.D. studies first.
"I've done a couple of months every year, but it wasn't enough to nail it," Pooley told Cycling Weekly today of her thesis. "Now, I'm not allowed to focus on training, only on writing."
The 2010 Worlds gold medallist said that she expects to be training again in March. "I'll be really fat and flabby by then; it might take a lot of training!"
Switzerland-based Bigla does not carry a UCI licence and is unable to race in the World Cups, but Pooley believes it should be able to race most other events based on wildcard invitations. She will race select time trial events to prepare for the Worlds time trial, 26.2km, in Florence on September 24.
"I just won't be racing at the level I had been racing at because I won't have the preparation this winter. That's why I wanted to ride with a team that was going to be flexible and not aiming for World Cups."
In the lead up to this year's World Championships in Valkenburg, the Netherlands, Pooley hinted at retirement or at least taking a complete year off. Her team AA Drink-Leontien.nl team lost its sponsor and lacked funding to attend certain races.
She told Cycling Weekly at the time: "It's not their fault at all, but that's the way it is in women's cycling. We had a nine-day Giro d'Italia this year - only nine days - and there were no proper mountain stages."
Pooley suggested she might take a year off to instead focus on her future post-cycling. She thought over her decision, partly while hiking from the southern to the northern tip of Corsica, and decided to continue racing. Bigla announced on Sunday that it signed her as one of its 14 cyclists for next season.
"With the bigger goal being the Olympics," Pooley added, "taking a year totally off is not wise."
Related links
Pooley contemplates break from professional cycling
Thank you for reading 20 articles this month* Join now for unlimited access
Enjoy your first month for just £1 / $1 / €1
*Read 5 free articles per month without a subscription
Join now for unlimited access
Try first month for just £1 / $1 / €1