Pozzato escapes lengthy doping ban due to paperwork error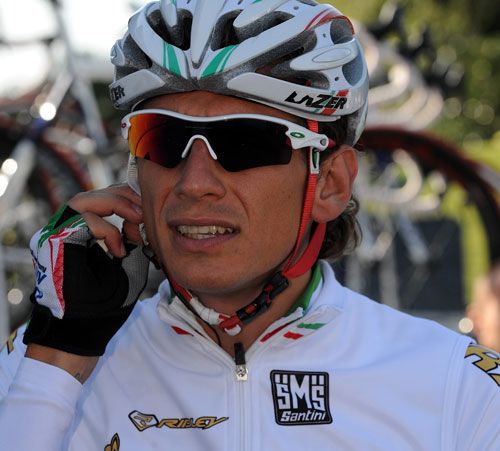 Filippo Pozzato (Farnese Vini) avoided a possible one-year doping ban due to a technicality. Yesterday, the Italian anti-doping tribunal (TNA) handed him a three-month doping ban that allows him to race immediately.
He commented on his doping case on Twitter afterwards, "What a farce."
The farce appears in Italian Olympic Committee's (CONI) paperwork. It failed, according to La Gazzetta dello Sport newspaper, to list Michele Ferrari on its list of banned trainers.
The Italian doctor from Ferrara trained under Professor Francesco Conconi, who helped introduce EPO to cycling, and famously worked with Lance Armstrong. He faced criminal charges accusing him of distributing doping products, but was cleared in 2006.
The CONI, however, since February 13, 2002, banned Ferrari from working with UCI-licensed cyclists. On July 10, the United States Anti-Doping Agency (USADA) banned him for life as part of its investigation into Armstrong. It said he helped with EPO, blood transfusions and other prohibited drugs and methods from 1999 to 2007.
Italy's La Repubblica newspaper printed an article on June 16 that linked Pozzato to Ferrari, paying nearly €50,000 [£39,000] a year. Pozzato admitted to working with Ferrari from 2005 to 2008 when he met with the Olympic Committee's prosecutor, but he claimed that it was only for training plans. The prosecutor proved he worked with him for a much longer period, through 2010, and recommended a one-year ban on June 28.
Pozzato's lawyer, Pierfilippo Capello, however, earned his pay by pointing out that Ferrari was not listed on the banned list of trainers and doctors. Instead of a one-year ban, or the automatic six-month ban for visiting banned trainers, Pozzato received a ban that ends in six days, September 18. The three-month suspension was back-dated to start on 19 June, the date CONI first heard him at its headquarters in Rome.
He lost a chance to race in the London Olympics and next week's World Championships, but will start again soon. He will take part in Milan-Turin on September 26 and the rest of the Italian races, including the Tour of Lombardy. First division teams, Katusha and Movistar, according to La Gazzetta dello Sport, are interested in signing him for next season and second division Italian team, Farnese Vini may renew his contract.
Because the ban is less than six months, Pozzato will also be eligible to represent team Italy in future edition of the Worlds and Olympics.
Michele Scarponi (Lampre-ISD) and Giovanni Visconti (Movistar) may now use the same defence, saying they did not know he Ferrari was a banned trainer, to avoid lengthy suspensions. CONI heard Visconti on Wednesday July 27 and helped ensure he was not in Italy's Worlds team. It will hear Scarponi in the coming month.
Related links
Italy clamps down on Ferrari's clients