FIRST RIDE: TIME EDGE RACER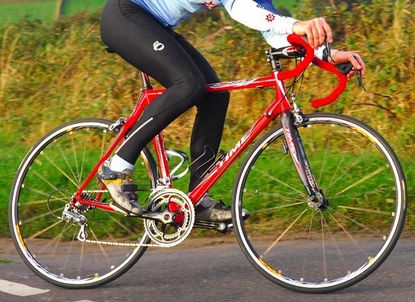 Time's carbon-fibre road frames have, in general, maintained a fairly traditional look, eschewing the drainpipe sized tubes or bulky lugged joints commonly found on other manufacturer?s frames.
The Edge Racer, sitting just above entry level in a range of five, has a bright, painted finish with only the fork and a small area on the seat stays revealing the black art of the carbon weave.
The overall bike package is not light, however, with a medium frame fully built up and weighing just over 9kg.
That said, the frameset Module on its own, available separately for £1,419, comprising frame, fork, Monolink stem and seatpost, only weighs 1.86kg, suggesting the choice of spec is the culprit.
The combination of small diameter tubing, a steep 73.5 degree head angle, and a relatively long head tube makes the Edge frame look very airy ? even with a slightly sloping top tube ? and results in quite a relaxed riding position.
The skinny tubes also offer a comfortable ride, making distance riding and training a pleasure, but as is often the case, there is a bit of a trade-off against stiffness.
Under heavy loads, when sprinting or accelerating out of the saddle for instance, the Edge doesn?t feel super sharp, although it is far from being lifeless and still feels nimble in the turns.
Mavic Aksium wheels and Vredestein Ricorso tyres are great for everyday use and training but for racing or sportives I would be inclined to swap these with something with a higher spec.
Having tested the Time Ulteam model last year, the Edge Racer is much less racey, making it best suited to the sportive rider, and for this purpose you could do a lot worse for the money.
TIME EDGE RACER
DistributorRJ Chicken www.chickencycles.co.uk
Price£1,419 (Module)
FrameTime RTM Edge HR carbon
ForkTime Avant Safe+
Size rangeXS?XL
Weight9kg
GroupsetCampagnolo Veloce
DeviationsNone
Alterationsnone
Gear ratios52/39 with 12?23
WheelsMavic Aksium Race
TyresVredestein Ricorso
Bars3T THE
StemTime Monolink
SeatpostTime Spirit
SaddleSelle Italia X2
Size testedMedium
CW FIRST IMPRESSION: 8/10
Thank you for reading 20 articles this month* Join now for unlimited access
Enjoy your first month for just £1 / $1 / €1
*Read 5 free articles per month without a subscription
Join now for unlimited access
Try first month for just £1 / $1 / €1