John Degenkolb shows off new custom Trek Madone for 2018 season
John Degenkolb has produced some nice custom designs on his bikes in the past, here is his latest on Trek's aero Madone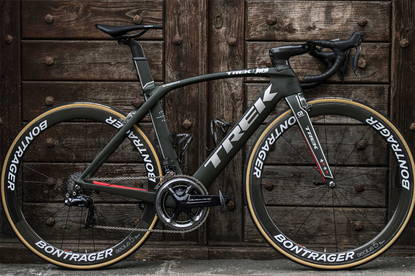 It has been clear in the past that John Degenkolb has a passion for other two wheeled transport and has dedicated his last two custom designs to his love of motor bikes, including the 'cafe racer' style, which we saw last year with Degenkolb's Trek Domané.
This year he'll be using the Trek Madone, the American brand's dedicated aero machine, which we have found to be one of the most aero road bikes available to date.
>>> Best aero bikes of 2018 tried and tested
Themed as "Chasin' Aces" this paint job is aimed at motivating Degenkolb to more victories this season having already won two stages at Challenge Mallorca on this bike. Despite the picture above the frame is actually a Black Moss base colour with subtle pin-striping and red fade on the inside of the forks.
"For me, my new Madone is one of the most beautiful bikes I have ever ridden," Degenkolb said.
"I like this perfect combination between a great colour and all the nice details that give me a lot of motivation to keep chasing the aces and adding more of those to my palmarés. I have got already two of them and I want to collect some more."

Unlike previous pro custom bikes, however, this Trek Madone will be available to purchase via Trek Bike's Project One portal. If this bike doesn't take your fancy then you'll be able to customise your own, of course.
This Trek Madone is the Race Shop Ltd version, which is available to the public, and made from the highest grade carbon available to Trek (700 Series OCLV carbon). It also has a very aggressive position, although this bike does also come in an H2 spec with a lower grade carbon and a slightly more relaxed geometry.
We found the Trek Madone to be one of the fastest bikes on the market in our in house testing, check out a full review here.
Thank you for reading 20 articles this month* Join now for unlimited access
Enjoy your first month for just £1 / $1 / €1
*Read 5 free articles per month without a subscription
Join now for unlimited access
Try first month for just £1 / $1 / €1