New Look 796 Monoblade TT bike has ultra-skinny front profile
The standout feature of the 796 Monoblade is its very narrow head tube. At only 25mm wide, it is on the UCI's minimum limit for head tube width. The steerer tube itself is some 19mm in diameter.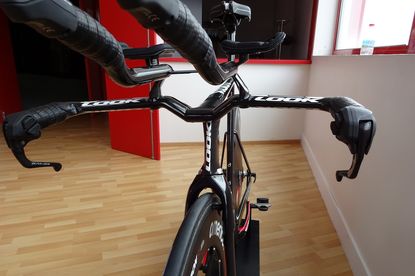 The stem and bars too are designed to present a very low cross-section, while still providing a broad range of adjustment both to the bar height and the elbow rests and extensions. Look claims that the flat stem ensures side-to-side rigidity while providing some vertical flex to improve rider comfort. There's a built-in support for attaching a bottle centrally between the rider's arms.
All cables are entirely internally routed through the bars, the stem and the frame and the front brake is Look's Aerobrake 2 which is built into the fork legs for optimal aerodynamics. The rear brake is a Shimano direct mount unit fitted under the chainstays.
>>> Look 795 Aerolight claimed to be most aero bike ever
The Aeropost seatpost too has been designed to be slippery, with a wide side profile and a narrow frontal cross-section. Its height and angle are adjustable, as is the head position on the post, which allows the fine tuning of the saddle's forward-aft positioning. The seatpost includes an elastomer insert to aid vibration damping.
Look has also produced a new version of its Zed integrated crankset, which it claims is more aerodynamic than its predecessor while retaining an industry-leading strength:weight ratio. The Zed 3's design allows three different effective crank lengths to be selected for a given crank. Since the Zed 3 is available in three different lengths, this provides nine possible crank lengths between 155mm and 175mm, supporting the trend for competitors to use shorter crank lengths in time trials and triathlons.
>>> Are shorter cranks better?
In common with Look's recently launched 765 endurance race bike, the 796 Monoblade uses a mix of carbon fibre and linen in the frame's construction, which Look claims helps to damp vibration. Look's frame is compatible with both mechanical and electronic shifting and Look claims a weight of 1100g for a size medium frame and 350g for the fork.
The bike has already been used in the Tour de France and other races by the Look-sponsored Bretagne Seché Environnement pro continental team.
Thank you for reading 20 articles this month* Join now for unlimited access
Enjoy your first month for just £1 / $1 / €1
*Read 5 free articles per month without a subscription
Join now for unlimited access
Try first month for just £1 / $1 / €1