Pro bike: Peter Sagan's custom S-Works Roubaix with suspension (video)
Peter Sagan's bike for Paris-Roubaix is this custom painted Specialized S-Works Roubaix with a future shock, but the disc brakes removed - Photos by Dan Gould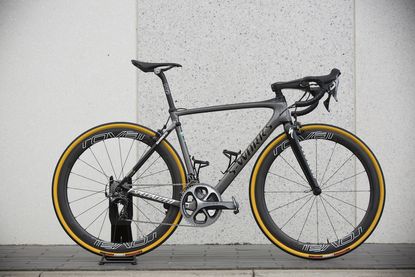 Current world road race champion, Peter Sagan will take to the cobbles of Paris-Roubaix on Sunday aboard a new custom painted bike, fitted with Specialized's 'future shock' suspension.
The bike is a new Specialized Roubaix, which has been changed to accommodate standard calliper brakes instead of the disc brakes it was originally designed with. Tom Boonen of Quick-Step Floors has a similar frame too, with his own custom paint job.
Sagan's bike has some really neat touches and details, so let's begin with the cockpit. Sagan uses a Zipp Sprint stem on most of his bikes and has done for a while. This is not inline with sponsors, so we can see that the team mechanics have covered up the logos with electrical tape.
You can also see the 'FutureShock' which is intended to provide relief on the rough surfaces. Having tested it ourselves on cobbles we were impressed. Sagan is using an aluminium bar wrapped with a single roll of his favourite SupaCaz bar tape - no double wrapping to dampen the cobbles.
Having been quickly redesigned to accommodate caliper brakes instead of discs, it is interesting to see that Specialized has opted for direct mount brakes over standard single mount calipers. Something that should mean the caliper cant be knocked to one side on the pavé.
Sagan's wheels of choice are Specialized Roval CLX 50's fitted with 28mm S-Works Turbo Tubulars. In previous editions of Roubaix, he has opted for shallower rims, to improve comfort, so it will be interesting to see what he uses on the day.
Sagan's power meter is the prototype 4iiii dual sided meter, while his chain rings are 53-44t. It is common for riders to use a larger 44t inner ring for Roubaix and we suspect this and the power meter is the reason why Sagan does not have the new Dura-Ace chainset fitted.
For Paris-Roubaix, Sagan insists on running mechanical Dura-Ace over the Di2 he normally runs. He did this last year too, with Fabian Cancellara also famous for insisting on mechanical gears.
Sagan's iridescent down tube looks stunning when it catches the light. Also note the added grip tape on the inside of the bottle cages to help hold the bottles.
Upon its launch, Specialized originally said that the new Roubaix model would be disc specific, and that they will not be releasing a rim brake version of the bike. When asked of this contradiction in reference to Boonen's bike, Specialized replied:
"In a time where bikes with disc brakes have not yet been adopted by all teams, there exists a discrepancy in mechanical assistance along the course.
"For these technical and strategic reasons, working closely with our teams and riders, we've decided to supply Tom Boonen (for whom Paris-Roubaix will be the last race of his career), and all of our riders competing at both Flanders and Paris-Roubaix, with Roubaix bikes that have traditional rim brakes."
I am glad they did, as Sagan's bike looks absolutely stunning. Is this the bike that will deliver victory on the pavé on Sunday? We can't wait to see.
Thank you for reading 20 articles this month* Join now for unlimited access
Enjoy your first month for just £1 / $1 / €1
*Read 5 free articles per month without a subscription
Join now for unlimited access
Try first month for just £1 / $1 / €1