Supacaz Super Sticky Kush bar tape review
It's the tape of choice for many pro riders including Sagan and Cav, but is Supacaz bar tape any good? Here is our review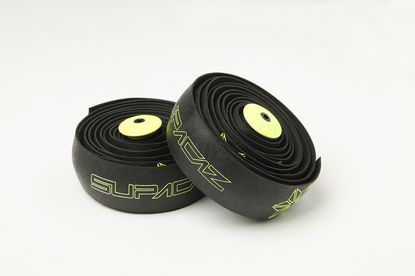 It may be pricey, but the expense can be justified considering the quality of not only the bar tape but the plugs and finishing tape. It feels great to the touch, wraps well and there is a huge range of colours
Reasons to buy
+

Really comfortable

+

Loads of cool colour options

+

Good quality

+

Good quality plugs
Why you can trust Cycling Weekly Our expert reviewers spend hours testing and comparing products and services so you can choose the best for you. Find out more about how we test.
Personalising your bar tape is an excellent and easy way to inject some fun and personality into your bike without spending a fortune.
Supacaz is a Californian company, with the name derived from the term 'super casual'. There's a huge range of colours and patterns available, you can easily make your bike stand out from the crowd with Supacaz bar tape.
It is the wrap of choice for many top pros, including Peter Sagan and Vincenzo Nibali. Sagan is a rider known for his flamboyancy and Supacaz matches this well as it is available in lots of extrovert neon colours.
However, if the Euro-fluoro look is not for you then fear not, there is a huge range offered including good old black. There are too many colours to list and some seriously cool options, so I implore you to check out the Supacaz site.
>>> The best bar tape and how to wrap it (video too)
Wrapping Supacaz bar tape is easy as well. Despite its thickness (around 2.5mm) there's enough stretch to get a nice tension as you wrap; the finishing tape is great quality too and actually works. All too often finishing tape is, well, pants – and leaves you resorting to trusty black electrical tape.
Most bar tape comes with fairly bog-standard bar-end plugs that you just ram in and hope for the best. A highlight of Supacaz is that the expanding plugs are excellent and among the best plugs we have encountered. They can be tightened with a 3mm Allen key, making both installation and removal much easier.
The finish is smooth, meaning this tape is more slippery when wet than Lizard Skins. However like Lizard Skins, it is very comfortable and feels great to the touch. Comfort is excellent too with Supacaz providing a decent degree of vibration dampening.
Thank you for reading 10 articles this month* Join now for unlimited access
Enjoy your first month for just £1 / $1 / €1
*Read 5 free articles per month without a subscription
Join now for unlimited access
Try first month for just £1 / $1 / €1
Oliver Bridgewood - no, Doctor Oliver Bridgewood - is a PhD Chemist who discovered a love of cycling. He enjoys racing time trials, hill climbs, road races and criteriums. During his time at Cycling Weekly, he worked predominantly within the tech team, also utilising his science background to produce insightful fitness articles, before moving to an entirely video-focused role heading up the Cycling Weekly YouTube channel, where his feature-length documentary 'Project 49' was his crowning glory.