Shimano launches new S-Phyre eyewear
Premium eyewear developed with input from Team LottoNL-Jumbo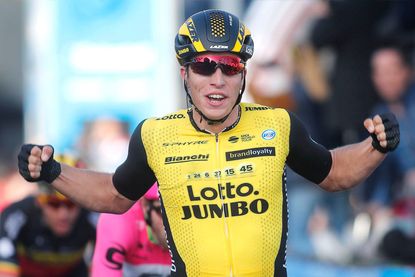 Shimano says that its new S-Phyre eyewear positions it at the premium end of the cycling eyewear market, complementing its S-Phyre shoe and clothing range. It says that the lens design is form fitting, to reduce air turbulence over the face. It's also designed the sidepieces to fit closely around the side of the face.
Shimano says that it's worked with riders from the LottoNL-Jumbo team on the glasses' design. Key requirements from the team were large lenses for protection and good peripheral vision and more deeply tinted lenses for good vision in bright sunlight. Riders also asked for a secure fit which remained comfortable and good resistance to scratching of the lens.
There are two designs: S-Phyre R for roadies and S-Phyre X for MTB. Shimano claims a weight of 25.6g for the road version and 28.6g for MTB.
The S-Phyre R is a rimless design with anti-slip temple grips and interchangeable nose pieces. It has a selection of different, interchangeable lenses available, although the frame is only available in black.
Meanwhile, the S-Phyre X uses the same lens design, but has a top half frame and detachable lower frame element for additional protection of cheeks and lens. And there's a second metallic blue frame colour option.
Lens choices
Shimano will offer both the S-Phyre R and the S-Phyre X with three lens options.
For variably sunny conditions, there's a photochromatic dark grey-red lens with light transmission between 13% and 62%, with the change in light transmission taking place in 8 seconds.
For sunny conditions, there's a polarised red lens with 16% light transmission. Shimano says that the polarisation reduces glare and reflections, providing easier reading of LCD screens and visibility of puddles. It's mirror finished and has an anti-reflection coating on the rear.
http://www.youtube.com/watch?v=9LAYN15QSWg
In both cases, there's a spare Cloud Mirror lens with 85% transmission, which is designed to reduce blue light transmission while allowing red and yellow hues to pass, for good contrast in low light conditions.
>>> The best cycling glasses 2018: a buyer's guide
Shimano says that retail availability will be from April 2018.
Thank you for reading 20 articles this month* Join now for unlimited access
Enjoy your first month for just £1 / $1 / €1
*Read 5 free articles per month without a subscription
Join now for unlimited access
Try first month for just £1 / $1 / €1