Shimano's S-PHYRE clothing range marks a 'new direction' for the brand
Japanese giant Shimano has released its S-Phyre clothing range, hailing the move as a 'new direction' for the company.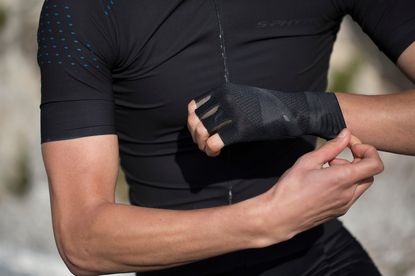 Well known for its drivetrains and brakes, Shimano is now looking to push into new territory in 2017, with the release of a clothing range.
The comprehensive grament line-up of includes jerseys, bib shorts, skinsuits, gloves, socks and the previously released S-Phyre shoes.
So, what's Shimano's aim? According to the brand, the S-Phyre concept has one goal: to maximise power transmission. Ultimately, the clothing is supposed to deliver more performance per gram as well as cheat the air. Put basically, that means limiting drag and friction.
See the Shimano S-Phyre clothing range on Shimano's website here
Shimano claims that S-Phyre is engineered to limit losses through technological advancements, saying that that "riders don't need to lose watts to the physics of aero drag, friction or overheating".
By applying "linkage and movement principles" between the bike, the body and the motion of its muscles, the company hopes to limit these power losses.
Other news for the brand includes their sponsorship of the WorldTour team LottoNL-Jumbo for 2017.
Currently, there's no news on prices for the kit. However, last year's S-Phyre shoes cost an eye watering £320, so we'd gamble the clothes will be pushing the higher price bracket.
Now, onto the good stuff:
S-Phyre jersey and bib-short
>>> First ride: Shimano Dura-Ace R9100 groupset
According to the brand, the first thing of note is that the jersey features seamless shoulders, which minimises shoulder wrinkles.
Plus, there's three "anatomically placed pockets", which give easy access to stashed items.
The jersey will be available in either black or yellow.
Supposedly, the bib shorts feature a shock-absorbing winged chamois as well as integrated woven leg grippers. However, it's the high-thread count on weave on the inner-thigh that "maximises power" by creating a zero-loss interface between the saddle and the garment.
Watch: Shimano Dura-Ace first ride
S-Phyre skinsuit
Shimano say that it'll be like a "second-skin" that is "exceptionally well fitting". Plus, it supposedly has advanced moisture management as well as seamless shoulders.
>>> How to service Shimano hubs
This, according to Shimano, straightens airflow, reduces drag and maintains aerodynamic effectiveness.
S-Phyre gloves and socks
>>> Shimano 105 groupset review
Billed as a "spring/summer" garment, the S-Phyre glove supposedly is an aerodynamic extension of the jersey – minimising drag with its "second skin" design.
The socks already exist, having been released last year alongside the S-Phyre shoes. However, the Japanese brand is keen to stress that they provide cushioning in "pressure areas" as well as slip resistance.
Thank you for reading 10 articles this month* Join now for unlimited access
Enjoy your first month for just £1 / $1 / €1
*Read 5 free articles per month without a subscription
Join now for unlimited access
Try first month for just £1 / $1 / €1