Alex Dowsett wins men's individual time trial gold
Gold for Alex Dowsett in Glasgow as he overturns a five second deficit on Rohan Dennis in the final kilometres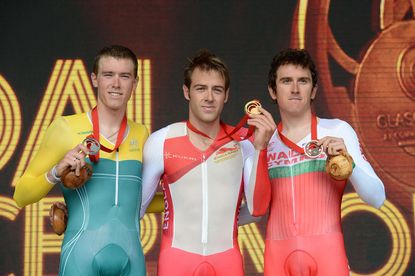 (Image credit: Andy Jones)
After a summer of disappointments including illness, non-selection by Movistar in the Tour de France and a hard-fought third place in the national time trial championship, Alex Dowsett beat a world-class field of time triallists in Glasgow to win gold ahead of Australian Rohan Dennis and Geraint Thomas of Wales. "The moment that I learned that I wasn't riding the Tour was the point that I thought about converting the form that I had into the Commonwealth Games," said Dowsett later.
The race - a testing loop which was draggy, then hilly then back into a headwind on open roads - quickly settled into a pattern as the final starters in the field got faster and faster, each rider going quicker than the previous at the first time check - Steve Cummings, Svein Tuft, Geraint Thomas, Trek's New Zealand Trek Factory racing's Jesse Sergent at 6.4km, then Dowsett, off second-to-last, fastest at the first split by four seconds. It was very early in the race, but it set the tone. Local and national favourite David Millar was last man off, but he was already eighth fastest at this point - 21 seconds behind Dowsett - and it didn't get any better for the Scot who would finally finish eighth, 2-14 down.
Dowsett was effectively in a tussle with Garmin pro Dennis - another rider who hadn't made the Tour de France team - and at the third and final checkpoint Dowsett was actually 11 seconds behind the young Australian. "I was struggling into the wind on the way back," confessed Dennis, "my power didn't drop, it was stable enough and although I tried to lift it, I just couldn't, I couldn't live with what Alex was doing in the last 10km."
Third placed Thomas, 'fresh' from finishing the Tour de France on Sunday, was happy enough with his ride. "What did I do to lose my second place to Dennis after the final split? Hmm, I didn't go fast enough I suppose," quipped the Welshman, clearly in good spirits and anticipating a good ride in Sunday's road race.
Dowsett was remarkably level headed in his assessment of his Commonwealth title. "It was a massive disappointment not being selected for the Tour - it still is - but this more than makes up for it for me. If I had ridden the Tour I might have been in the same position as (Luke) Durbridge who told me he has been feeling quite tired after the Tour (the Orica Aussie finished the Tour on Sunday and finished ninth behind Dowsett).
It was his first one and it would have been my first one so maybe I would have been feeling it more than G (Thomas) so, really, there are two ways of looking at my non-selection, it allowed me to focus more on this."
Thank you for reading 10 articles this month* Join now for unlimited access
Enjoy your first month for just £1 / $1 / €1
*Read 5 free articles per month without a subscription
Join now for unlimited access
Try first month for just £1 / $1 / €1