Ryder Hesjedal lighter and stronger for Giro d'Italia defence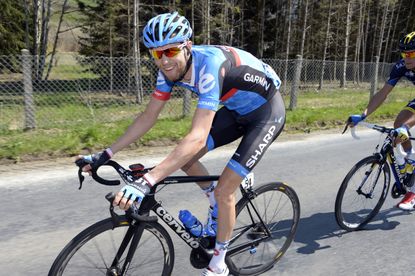 Ryder Hesjedal (Garmin-Sharp) will start his Giro d'Italia defence on Saturday lighter and stronger than before. On the eve of the race, he explained to a small group of journalists that he weighs three kilogrammes less than when he became the race's first Canadian winner last year.
Hesjedal starts the Giro d'Italia tomorrow in Naples weighing 69 kilograms compared to 72 in 2012. Last year, he dealt with Spain's Joaquím Rodríguez (Katusha) over three weeks, wearing the pink jersey on and off. He re-took the jersey in Milan on the final day of the race.
His power-to-weight ratio will come into play throughout the race from Naples to Brescia. The first major test comes in the form of a 54.8km time trial at the end of the first week. The last week, as usual, is littered with high Alpine passes.
Combined with the difficulties, he said that his rivals are just as strong this year.
"I just saw a stat that the last back-to-back Giro winner was Miguel Indurain in 1993, so it's not easy and it doesn't happen often. If it doesn't happen, I'm not going to be upset versus someone who is someone who's chasing it more than me and doesn't have that victory. With that said, it doesn't mean that I'm not going to try as hard as I can," Hesjedal explained.
"I could perform and be better than I was in last year's Giro and not win... Just the fact that you have the current Tour de France champion [Bradley Wiggins] here, Vincenzo Nibali was third in the Tour last year... And you have myself, who won the Giro last year... You can never compare riders from different races and different years, it's not consistent like that but if you look at the line-up, it's a very difficult field."
The time trial to Saltara will be important for riders like Hesjedal and Wiggins to gain time on the pure climbers.
"It's very difficult, especially just the distance at 55 kilometres," Hesjedal said. "It is tech right away, up and down, a lot of corners. Most of the climbing is in the first 20 to 25 kilometres, then you get back to traditional big stretches where you have to be on it. Even in the last four kilometres, there's a climb and it's not easy, you could have a perfect ride and it could all fall apart there. You definitely have to gauge your effort well."
He spoke with confidence, as someone who already has a Grand Tour in his palmarès. The team is ready to support him. His wife and agent even made the trip to Naples to see a lighter, more confident Hesjedal kick off another Giro bid.
Related links
Sir Bradley Wiggins ready for the Giro
Giro d'Italia 2013: Coverage index
Giro d'Italia 2013: The Big Preview
Read Cycling Weekly magazine on the day of release wherever you are in the world with our iPad and iPhone edition - International digital edition, UK digital edition. And if you like us, rate us!
Thank you for reading 20 articles this month* Join now for unlimited access
Enjoy your first month for just £1 / $1 / €1
*Read 5 free articles per month without a subscription
Join now for unlimited access
Try first month for just £1 / $1 / €1