Hill-climbers warm up this weekend ahead of nationals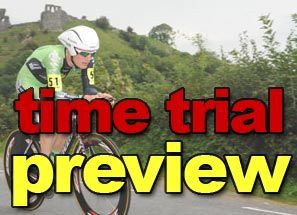 Several contenders for this year's National Hill-Climb Championships will compete against each other on Sunday as the build-up to the 2011 title race continues.
Former winners Matt Clinton (Mike Vaughan Cycles) and James Dobbin (Adeo Cadence RT), as well as Tejvan Pettinger (Sri Chinmoy CT) are all down to ride the Warwickshire Road Club two-stage event.
Based at Weston Sub Edge, the events use the 1,438-yard Dover's Hill and the slightly longer one-mile climb of Saintbury Hill which have provided some thrilling hill-climb championships over the years.
Last year's Championship was run off on Dover's Hill, where Dan Fleeman took victory by 14 seconds from Clinton, while Pettinger was disappointed to finish fourth last year having beaten Clinton on the same course earlier that season.
But it remains to be seen who is the fastest over the course this year, and indeed who will prove victorious on Saintbury Hill.
Pettinger will be aiming to secure a championship medal in the title race at the end of October, and won the Buxton CC event on the same course in Derbyshire. But will he prove strong enough to topple Clinton and Dobbin?
The day begins on Saintbury at 10am, with Dover's Hill being tackled at noon.
Twenty four hours earlier, Dobbin is down to ride another two-stage hill-climb, this time in Devon.
The Mid-Devon CC events at Bovey Tracey use the 3.125-mile Hay Tor climb and the 2.2-mile Manhead climb, and Dobbin is the last off in both events.
His team-mate at ADEO Cadence, Tavis Walker has been in good form recently and will push him all the way for victory.
At seven miles long it perhaps passes more as a time trial than a road race, but the Cat and Fiddle climb near Macclesfield in Cheshire is the venue for the Weavey Valley CC event on Sunday.
Entries include Mark Lovatt (Planet X) who won the national title on the same course around five years ago. However, also likely to be chasing for victory are RST Racing's Gunnar Gronlund, a 24-year-old former Swedish international mountain biker.
Team Wiggle's Ben Simmons is last man off in the Welsh Hill-Climb Championships on the RH4 course at Rhigos on Sunday, while others who will be challenging for the podium include Darran Carpenter (Cwmcarn Paragon) and Jonathan Shubert (Ystwyth CC).
In conventional time trialling, Yorkshire Road Club stage a 50-mile event on the V259 at Dalton in North Yorkshire on Saturday.
Last off in a full field of 120 is Andy Bason (Team Pedal Revolution.co.uk), while his team-mates Nik Bowdler and Mark Arnold are also down to ride and look likely to challenge for the team prize as well as the podium.
I Ride RT ace Scott Povey will be out to stop them completing a clean sweep of the podium, as will Team Swift's Joel Wainman and Leamington C&AC's Rob Weare.
And at shorter distances, the Eastern Counties CA 10-mile event at Six Mile Bottom in Cambridgeshire has attracted multiple national champion Michael Hutchinson (In Gear-Quickvit RT).
This weekend's top events
Saturday, September 24
Yorkshire Road Club 50 - Dalton, North Yorkshire (Course V259), 1.30pm.
Seamons CC 25 - Goostrey, Cheshire (course J2/9), 10am.
Eastern Counties CA 10 - Six Mile Bottom, Cambridgeshire (course E2/10), 2pm.
Mid-Devon CC two-stage hill-climbs - Hay Tor (11am) and Manhead (2pm).
Sunday, September 25
Warwickshire Road Club hill-climbs - Weston Sub Edge, Warwickshire (KH27, Saintbury Hill, one-mile, 10am. And KH28, Dovers Hill, 1,438yds, noon).
Weaver Valley CC hill-climb - Cat and Fiddle, near Macclesfield, Cheshire (course J9/7, seven miles), 10am.
Welsh Hill-Climb Championship - Rhigos, Wales (course RH4), 10am.
VC Cumbria hill-climb - Whinlater Pass, Cumbria (L824), 11am.
Related links
Cycling Weekly's time trial news section
Thank you for reading 5 articles this month* Join now for unlimited access
Enjoy your first month for just £1 / $1 / €1
*Read 5 free articles per month without a subscription
Join now for unlimited access
Try first month for just £1 / $1 / €1
Snowdon Sports is a long-established independent sports news agency, which supplies editorial to a range of media outlets - such as Cycling Weekly - as well as sports governing bodies. Snowdon Sports often covers results at Cycling Time Trials events in the UK and has long been a source of information and imagery to Cycling Weekly.