IAM Cycling bus gets stuck on the way to the Tour de Suisse stage five
IAM Cycling manager Rik Verbrugghe tweets a picture of the team bus stranded across a dip in the road at the Tour de Suisse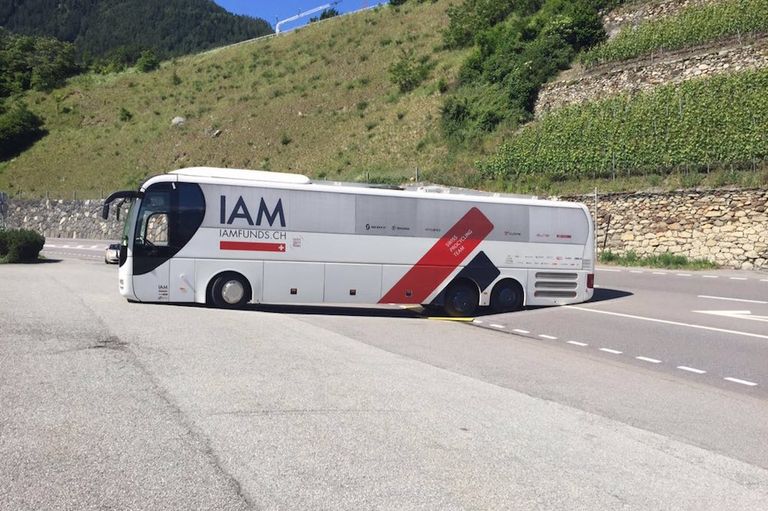 Yes.... this we confirm.
We did that this morning.
There are days like this. 😰😎 pic.twitter.com/haYtpC2drR
— ✚ Team IAM Cycling (@IAM_Cycling) June 15, 2016
Being the bus driver for a professional cycling team could be a great job, but you only ever make the headlines when something goes awry.
Remember when the Orica-GreenEdge bus got stuck under the finish banner on stage one of the 2013 Tour de France? Then there was a Roompot-Oranje Peloton bus that reversed into a building at Ghent-Wevelgem in 2015.
And at the Tour de France in 2015 the team buses didn't make it to the end in time when they were sent on an incredibly long and winding detour through some gorges on stage 14.
En route to the start of stage five at the Tour de Suisse the IAM Cycling bus driver beached his vehicle on a dip in the road, prompting team manager Rik Verbrugghe to question whether they'd make it to the start line on time.
The Swiss team did make it, thankfully, meaning they didn't have to abandon their home race. The driver probably won't be enjoying his 15 minutes of fame, though.
The IAM team later published a video of the bus being hauled out of its predicament by a 4x4.