Cooke and Armitstead to follow men's race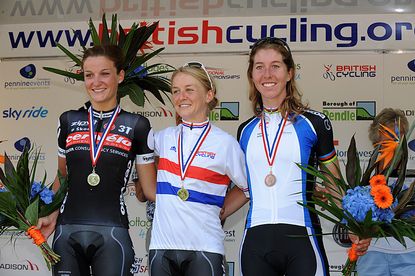 Nicole Cooke and Lizzie Armitstead will ride in the British team cars for Sunday's London Surrey Cycle classic. The pair are likely to be joint leaders for the women's Olympic road race next year but without a test event for women, they don't get to preview the route.
"It is sexist, but it's the same for all the girls, so we just have to do what we can to use the home advantage." Cooke said when asked what she thought of the situation.
World time trial champion Emma Pooley was similarly disappointed. "It's a real shame they haven't put a woman's race on, I think there'd be plenty of takers for it. They could run it on the same circuit, just start it 50km down the route from the men, use the same finish line, everything is set up."
Although the 2012 route is too flat for Pooley to have much of an impact herself, she will act as super domestique for Cooke and Armitstead, both of whom have fearsome sprints. "How much extra effort would go in to putting on a women's race? I'm sorry, but we have a sport as well, it kind of annoys me every time."
"It would be a fantastic race to watch. It's not just about equality, women's racing is also interesting. People watch women's tennis and women's athletics, and we have a good number of riders who do well internationally."
Cycling Weekly asked LOCOG why a women's race couldn't be held before the men's, but got no reply.
Next year the women's race follows exactly the same course as Sunday's test event, tackling the Box Hill loop twice before heading back in to London and the finish on the Mall.
Related links
London-Surrey Cycle Classic: The big preview
Thank you for reading 20 articles this month* Join now for unlimited access
Enjoy your first month for just £1 / $1 / €1
*Read 5 free articles per month without a subscription
Join now for unlimited access
Try first month for just £1 / $1 / €1