Italian women turned away from Box Hill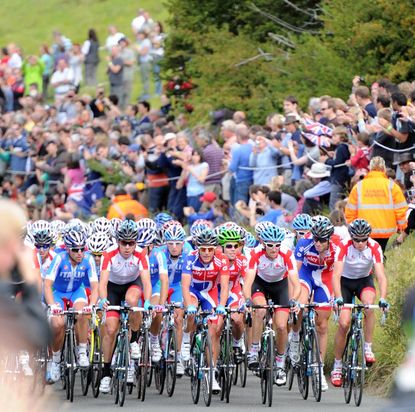 The Italian women's road team came to the UK today to ride the Olympic road race route in Surrey, only to get turned away at the bottom of Box Hill.
Six riders, their coach and current world champion Giorgia Bronzini (who wasn't riding) had travelled over especially to ride Box Hill, but when they got to the Olympic parcours' crucial section, they weren't allowed up.
Resurfacing work is still ongoing on the 2.5km climb. It was due to be completed yesterday but a workman told local cyclist Dave Kennett that they were now hoping to be finished by the end of the week, but that depended on the weather.
The Italian team coach tried in vain to get his riders past the work force, saying they had spent €10,000 on travelling over to specifically ride the climb, but they couldn't get through. "There are other hills" came the reply from the workman.
With no test event for the female pros, their only chance to ride the climb has come in training. Several riders have been seen riding the route already this spring, and that is set to continue once the resurfacing works are complete.
The Italians eventually gave in and turned and rode back down to the A24 before turning right up towards Leatherhead and then Headley. But that wasn't the end of their troubles.
No doubt worried about the lack of courtesy shown to cyclists on the roads in the south east, the riders' coach drove behind the group. Eventually the Police saw the traffic building up behind the minibus, pulled him over and instructed him to drive on ahead and wait.
The German men's team is supposed to be visiting Box Hill tomorrow for their recce of the climb and could also leave disappointed. Team GB couldn't have planned it better if they'd tried.
The Italian women checking out part of the Olympic route. Picture courtesy of Dave Kennett
Resurfacing works are still ongoing due to the recent bad weather. Picture courtesy of Dave Kennett
A lovely bit of brand new tarmac at the bottom of Box Hill. Picture courtesy of Dave Kennett
Thank you for reading 5 articles this month* Join now for unlimited access
Enjoy your first month for just £1 / $1 / €1
*Read 5 free articles per month without a subscription
Join now for unlimited access
Try first month for just £1 / $1 / €1