Laura Trott takes overall control in the omnium after dominating opening rounds
The defending champion couldn't be beaten in her best event, the elimination race, as the women's omnium reached the halfway point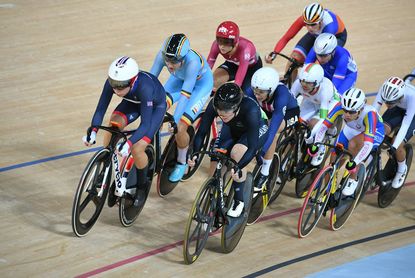 (Image credit: Watson)
Laura Trott showed no signs of letting her Olympic title slip as the omnium reached the halfway point on Monday.
The Briton had already showed her class with a second place in the scratch race in round one and a win in the individual pursuit in round two, but capped that off with a formidable display in her favoured event, the elimination race.
>>> Mark Cavendish takes Olympic silver medal in omnium as Elia Viviani seals gold
Trott easily manoeuvred her way amongst the field until they were down to just three riders, with Jolien D'Hoore (Bel) and Sarah Hammer (USA) joining Trott for the final elimination and sprint finish.
Hammer attacked early before the elimination, but Trott was able to catch her in the final half lap and beat both to the line, with D'Hoore just sneaking across ahead of Hammer to stay in.
There was no chance for the Belgian in sprint finish however, with Trott easily beating her to the line to take the victory.
It leaves three-time gold medallist Trott on 118 points with D'Hoore trailing at 110 behind, with three events - the kilometre time trial, the flying lap and the points race - to come in Tuesday's final day on the track.
Results
2016 Olympic Games, Women's Omnium: Elimination Race
1. Laura Trott (GBR)
2. Jolien d'Hoore (BEL)
3. Sarah Hammer (USA)
4. Kirsten Wild (NED)
5. Annette Edmonson (AUS)
6. Amalie Dideriksen (DEN)
7. Tatsiana Sharakova (BLR)
8. Anna Knauer (GER)
9. Laurie Berthon (FRA)
10. Luo Xiaoling (CHN)
11. Lauren Ellis (NZL)
12. Angie Sabrina Gonzalez (VEN)
13. Hsiao Mei Yu (TPE)
14. Xiao Juan Diao (HKG)
15. Allison Beveridge (CAN)
16. Daria Pikulik (POL)
17. Sukura Tsukagoshi (JPN)
18. Marlies Mejias Garcia (CUB)
Overall standings after three rounds
1. Laura Trott (GBR) 118
2. Jolien d'Hoore (BEL) 110
3. Sarah Hammer (USA) 108
4. Amalie Dideriksen (DEN) 92
5. Tatsiana Sharakova (BLR) 90
6. Kirsten Wild (NED) 90
7. Annette Edmondson (AUS) 90
8. Lauren Ellis (NZL) 82
9. Laurie Berthon (FRA) 68
10. Anna Knauer (GER) 52
Thank you for reading 20 articles this month* Join now for unlimited access
Enjoy your first month for just £1 / $1 / €1
*Read 5 free articles per month without a subscription
Join now for unlimited access
Try first month for just £1 / $1 / €1