London 2012 mountain bike course 'toughened up'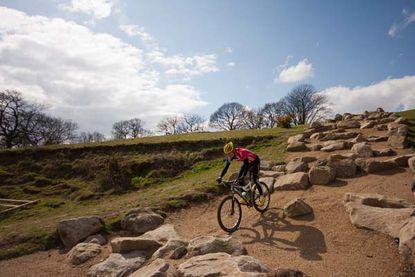 The London 2012 cross-country mountain bike course at Hadleigh Farm, Essex, has undergone several changes to make it harder, faster and tougher for this summer's Olympic Games.
Suggestions for improvements from riders taking part in last July's test event at the venue were taken into account, resulting in several alterations in key areas.
The most striking is the introduction of a highly technical downhill 'rock garden', a twisting section of track strewn with large boulders which the riders must pick their way through to safety.
"These changes to the course have been implemented after feedback from the elite athletes following the test event and from conversations with the UCI," said Debbie Jevans, director of sport at London 2012 Organising Committee.
"We are confident that the London 2012 course remains one of the most technically challenging courses at an Olympic Games, whilst we have ensured that it is as competitive as it can be by increasing the number of places where competitors can pass each other. It is wider and higher than for the test event and with the stunning setting of Hadleigh Farm we are looking forward to a world class Olympic event."
One of the criticisms levelled at the venue is that it is not hilly enough. The site is on a natural hill, and although you couldn't call it a mountain the course designers have now fully maximised their use of the slopes to create 172 metres of climbing around the 4.7km circuit.
A new climb has been introduced after the start area to prevent a bottleneck of riders, and several parts of the track have been widened to allow riders to easily pass each other.
The Union Cycliste Internationale (UCI) has yet to give the course a final sign-off as construction work at the venue - in particular the grandstand and spectator facilities - has yet to be completed.
A total of 80 riders will compete in the cross-country event from 36 nations, split into 30 women and 50 men. Qualification for places is still underway, but it looks likely that Britain will be able to field two men and one woman in the event.
The men's cross-country takes place on August 11, with the women's event on August 12.
July's test event was won by Frenchman Julien Absalon and Canadian Catharine Pendrel.
The mountain bike circuit makes good use of the hilly terrain in Hadleigh Farm
New rock garden section tests riders' technical skills
Several parts of the track have been widened to allow riders to pass
The course features plenty of switchbacks, drop-offs and sharp climbs
Several areas have been designed to maximise the number of times spectators will see the race. This feature has riders going over and through a large pipe
Riders will have to pick their way through the rocks carefully
Great Britain's Liam Killeen tackles a rocky drop
Related links
London 2012 Olympic Games: Cycling schedule
London 2012 Olympic Games: News section
August 2008: Lord Coe selects Hadleigh in Essex as 2012 Olympic MTB venue
Thank you for reading 20 articles this month* Join now for unlimited access
Enjoy your first month for just £1 / $1 / €1
*Read 5 free articles per month without a subscription
Join now for unlimited access
Try first month for just £1 / $1 / €1