Pendleton needs to break her winning run before London, says Jamie Staff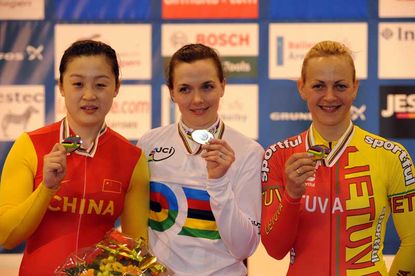 Jamie Staff believes Victoria Pendleton could miss the World Championships next year rather than increase the pressure of the run-up to the London Olympics by winning a fifth consecutive sprint title.
Pendleton won the sprint in Copenhagen last week to stretch her remarkable run of sprint world titles to four in a row. Staff believes she needs to take a step back now rather than try to keep the run going all the way to London 2012.
And if she does ride the championships at Apeldoorn in the Netherlands in a year's time, Staff feels she should go into it purposely below her best, before regrouping and hitting peak form for 2012.
"Imagine going into London not only as defending Olympic champion but also as a world champion six times in a row," he said. "The pressure would be unbelievable, no one in the world could cope with that increase in pressure. Maybe winning all the time slackens the motivation a bit too."
Staff was talking to Cycling Weekly having announced yesterday his own retirement from cycling, partly because of a back injury.
The Olympic and world champion spent the week in Copenhagen working as a commentator for Eurosport. And he felt that the last thing the Great Britain team needed was an all-conquering World Championships.
"So what if we get worked over in a few events now," he said. "Those team pursuit lads, losing so narrowly to the Aussies, that's the best thing for them and it'll benefit them in the long term. They were gutted to lose by that little bit but, in my experience, the humbling experience is often the most beneficial experience."
As for Pendleton, he believes that trying to keep her dominance in the sprint competition going could end up being counter-productive.
He added: "I know Vicky very well, and her fiancé, Scott [Gardner, the former British Cycling coach]. I think she needs to get off her bike and have a life for a while. We're already talking about her not riding the Worlds next year.
"The thing with Vicky is she knows how to win. Tactically she's very, very strong, she knows the roadmap of how to get yourself into the shape of your life, she's mentally stronger now than she's ever been and she's driven and self-motivated.
"There's no reason she can't step back now. She doesn't want to let go of her grasp on the world title but it wouldn't have done her any harm if she'd been beaten in Copenhagen. She's going to have some forced rest, basically, and she'll have a really late start to next season or maybe even miss it.
"When Vicky lost the Keirin at the World Championships in Manchester in 2008, that was absolutely the best thing that could have happened."
Staff also feels some of Britain's best young track riders need to be told when to rest and relax. "I've always needed balance in my life, always needed down time and I think people don't realise how important it is. There are people on the Great Britain team I think need to let their hair down a bit more, there are some youngsters who feel they can't take any down time because of the environment they're in but you have to be sure to take some time off, no matter what you're doing."
One of the defining moments of Staff's career was being relegated in the Keirin competition during the Athens Olympics in 2004, a decision he still believes was wrong, but which gave him added motivation.
On the last day of the World Championships in Copenhagen, British Cycling's performance director Dave Brailsford led the protests that Lithuania's Simona Krupeckaite strayed out of the sprinter's lane in the final 200 metres and should have been relegated, which would have given Pendleton a second gold of the week.
It was an incongruous end to a week in which Brailsford and British Cycling had been insisting that London 2012 was the focus, not the results of this World Championships.
Staff said: "We didn't pick up on it in the commentary box at all. It wasn't until I got down in the track centre I realised what was going on. I think the way Vicky took it says it all really. She wasn't shouting about it. Yes, she [Krupeckaite] came out of the red line but she didn't change her line much and she didn't impede on Vicky's line. It's sometimes very difficult to ride inside that line. There are the G-forces you get as you go round the turns, worrying about who's coming up behind you, there's a lot going on. If she did it deliberately it was very sly. I don't think it disturbed Vicky's momentum. If it had been a quick flick, sending Vicky up the track, that would be a different matter."
Read Cycling Weekly's big interview with Jamie Staff in next week's issue of the magazine
Thank you for reading 10 articles this month* Join now for unlimited access
Enjoy your first month for just £1 / $1 / €1
*Read 5 free articles per month without a subscription
Join now for unlimited access
Try first month for just £1 / $1 / €1
Sports journalist Lionel Birnie has written professionally for Sunday Times, Procycling and of course Cycling Weekly. He is also an author, publisher, and co-founder of The Cycling Podcast. His first experience covering the Tour de France came in 1999, and he has presented The Cycling Podcast with Richard Moore and Daniel Friebe since 2013. He founded Peloton Publishing in 2010 and has ghostwritten and published the autobiography of Sean Kelly, as well as a number of other sports icons.