Peter Sagan: I felt I could make top-10 in the Olympic MTB
Road world champion Peter Sagan was left deflated after a puncture ruined any chance of a decent placing in the Olympic mountain bike cross-country race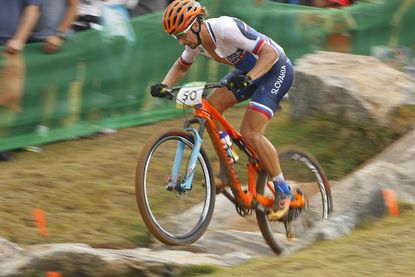 (Image credit: Watson)
Peter Sagan says he felt that he could make to top-10 at the Olympic mountain bike cross-country race in Rio on Sunday, but was ultimately left disappointed after an early puncture scuppered his chances.
Sagan's bid to take a surprise medal against the more seasoned mountain bike pros got off to a flying start. The Slovakian started at the back of the 49 rider pack, but quickly found himself in the leading five riders in the opening lap.
>>> Peter Sagan suffers disastrous day in Olympic MTB after bright start
Disaster struck shortly after, with Sagan puncturing and having to ride on a flat front tyre for most of the second lap before receiving assistance in the pit area.
He'd lost a significant amount of time to leaders Jarolslav Kulhavy and eventual winner Nino Schurter, but looked to be recovering before disaster struck again. A fall caused another puncture and Sagan was forced to run some of the lap carrying his bike.
"In the start I felt great and was in the top three," Sagan told Reuters.
"But then I had a puncture and I had to go for half a lap before I could get a wheel change. Then it was impossible to make contact with the first guys.
"I also had a puncture on the third or fourth lap, only a small one, but my wheel felt like chewing gum.
"Two punctures were very bad for my mentality. I did everything, but it was impossible to get in the top 10. I felt I could make the top 10."
Sagan didn't finish the race, with Schurter crossing the line while he was on his penultimate lap, with all riders brought to a stop after the winner crosses the line if they were not within the final 48km circuit.
The 26-year-old has become a superstar on the road, winning the Tour of Flanders this year to add to the World Championship road race title in 2015, and says he's happy that he returned to take on the Olympic MTB, despite the disastrous day that unfolded.
"After seven years, I am back on the mountain bike, and I was happy to try," he added.
Thank you for reading 20 articles this month* Join now for unlimited access
Enjoy your first month for just £1 / $1 / €1
*Read 5 free articles per month without a subscription
Join now for unlimited access
Try first month for just £1 / $1 / €1