Peter Sagan suffers disastrous day in Olympic MTB after bright start
Sagan suffered a puncture after the beginning of the second lap of the course in Rio, as Nino Schurter took gold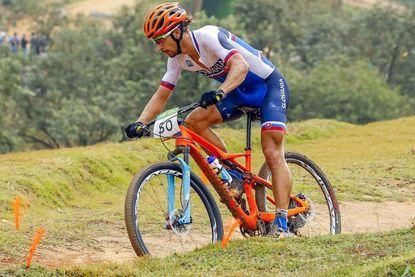 (Image credit: Watson)
In a typically magnificent display Nino Schurter (SUI) took gold in the Rio Olympics cross-country racing after an unexpectedly prolonged cat-and-mouse battle with Jarolslav Kulhavy (CZE). Peter Sagan (SVK) however, suffered a disastrous day after an early puncture scuppered his chances.
Schurter completes the full set of Olympic medals. He now has a bronze, a silver and a gold medal.
>>> Peter Sagan: I felt I could make top-10 in the Olympic MTB
How did Peter Sagan get on?
Road racing world champion Peter Sagan had a blistering start and for the whole of the first lap Sagan was in the top three. Unfortunately at the start of the second lap Sagan suffered from a front wheel puncture - presumably caused by one of the rocky descents.
Racers aren't allowed any external help outside of the pit area - which Sagan had only just passed through. So Sagan had to complete almost all of the second lap with a flat front tyre. Carrying his bike down - and up - a great many sections.
It will remain one of the great what-ifs of Olympic mountain biking. "What if Sagan hadn't punctured?" But, then again, he punctured. And not-puncturing is part of being a good mountain bike racer.
To his credit Sagan did not pull out of the race, he continued until Schurter had crossed the line in first place at which point all other racers have to stop riding on whatever lap they're on.
Settling old scores
Schurter's victory is especially sweet for the racer as it comes after London 2012 where Schurter was pipped at the post by Kulhavy in a finish line sprint.
An Olympic gold was something of a glaring omission in Schurter's palmares. He more than anyone was aware that you can't really be considered among the XC MTB legends without an Olympic gold. Although the sport has only been in the Olympics since Atlanta in 1996 it quickly became THE race to win.
In a similar way to the previous day's women's race, the winning racer waited until the sixth lap before laying down the hammer and quickly opening up an unassailable gap over the rider behind.
Third place was taken by Spain's Carlos Coloma Nicolas who won out in a real ding-dong battle with 4th place Maxime Marotte (FRA).
>>> What can roadies learn from mountain bikers?
17th for Great Britain's Grant Ferguson
Great Britain's wildcard late-entry Grant Ferguson put in a very credible performance and finished in 17th spot - a highly respectable result.
Grant Ferguson said: "I kind of wanted a top ten and I went for that at the start and then I just had to find my own rhythm to get the most out of myself. I did my best out there.
"We'd practised the course all week and it has been dry and dusty, so it completely changed overnight. I had a little look before we started and I could tell it was going to be slippery. Then on lap one there were people everywhere and it was carnage. I had to try and pick a line through it and not make any mistakes to move up as well as I could.
"Once we got going you got to know what the lines were and where the grip was and you could carry a lot more speed.
"[Punctures] are the nature of mountain biking and equipment. Everyone runs light stuff because it's a one day race and they take a risk. I saw people everywhere having problems but I was trying to look after myself.
"We've got a World Cup next week to finish the season and then I'll have a bit of a break. It's my first year at the elite level, so I've got quite a few years ahead of me. I'll just look to improve and develop.
"I've really enjoyed my Olympic experience. It's really cool to be part of the squad, being in the village with the atmosphere. Obviously I was all focussed on this event and it's on the last day, so I've been looking forward to it for a long time.
"I knew [the wait to compete] was coming, so I didn't come into the village for the whole two weeks otherwise I'd have been a bit stir crazy. So I came here with a week to go and prepared for my race."
Julien Absalon (FRA) didn't really put in the performance that we all hoped he might do. He clearly found the course tough and paired up with fellow countrymen Marotte for a bit. Absalon eventually finished in eighth position. Absalon is now due to retire from elite racing - he's earned it!
>>> Dr Hutch: The Olympic Games infects a nation with sporting pride
How the race unfolded
For the first half the race the racing was frenetic and ever-changing. The lead spot exchanged hands several times. At various points Marco Fontana (ITA), Luca Braidot (ITA), Jaroslav Kulhavy (CZE) and Schurter (SUI) were in the lead position.
This was not the usual World Cup sight of Schurter getting to the front and staying there.
Looking back at the race now it looks like the whole thing went down according to Nino's gameplan. He looked awesome but only racing at 95%.
Quite happy to be tucked in behind Kulhavy. Quite happy to style it up over the jumps for the photographers. Quite happy to sit behind Kulhavy and casually spend some time inspecting different line choices for forthcoming laps.
Schurter must have been thinking back to London 2012 though, where Kulhavy did for him right at the finish line in a last gap sprint. Schurter was happy to let Kulhavy for most of the race but was clearly not going to let him go into the final lap with anything remotely resembling a chance of a similar victory to London 2012.
We have no confirmation yet but to our eyes it looked like Kulhavy's rear tyre was softer than it should be for the penultimate lap. Did Kulhavy have a slight puncture that tubeless sealant took a while to heal resulting in a soft tyre? Or was just our imagination?
For the last half of the race it was a tale of two battles. One for gold and another, 30-odd seconds behind, for bronze. The bronze medal went all the way to the last half of the final lap where Coloma Nicolas attacked and Maxime Marotte has no response.
It was towards the end of the penultimate sixth lap where Schurter opened up a significant gap over Kulhavy.
Schurter very nearly overcooked it one point - his rear wheel sliding out from under him on a slippy tree-covered descent - but he rode it out and had no further such incidents.
Indeed this warning seemed to prompt Schurter to cool it down a bit and start to nurse it down some of the descents slightly. We say "nurse", he was still flipping fast.
From this point the race played out like pundits had expected it to from the start. Schurter cranking it out, looking smooth and stylish. He knew he had an unassailable lead over Kulhavy. All he had to do was avoid crashing or a mechanical.
And avoid trouble he did. Schurter full of smiles as he glided around the final section of lap seven.
Nino Schurter no longer has that gap in trophy room. A hugely deserved Olympic win. He was the best mountain biker out there today.
Men's Olympic cross-country mountain biking results
1. Nino Schurter (SUI), in 1:33:28
2. Jaroslav Kulhavy (CZE) 1:34:18
3. Carlos Coloma Nicolas (ESP) 1:34:51
4. Maxime Marotte (FRA) 1:35:01
5. Jhonnatan Botero Villegas (COL) 1:35:44
6. Mathias Fluckiger (SUI) 1:35:52
7. Luca Braidot (ITA) 1:36:25
8. Julien Absalon (FRA) 1:36:43
9. David Valero Serrano (ESP) 1:37:00
10. Victor Koretzky (FRA) 1:37:27
Others
17. Grant Ferguson (GBR) 1:39:10
- Peter Sagan (SVK) at 1 lap
Thank you for reading 20 articles this month* Join now for unlimited access
Enjoy your first month for just £1 / $1 / €1
*Read 5 free articles per month without a subscription
Join now for unlimited access
Try first month for just £1 / $1 / €1