Steve Redgrave: 'I'm getting fed up with these cyclists!'
British Olympian Steve Redgrave "honoured" as Bradley Wiggins joins the five-time Olympic gold medallist club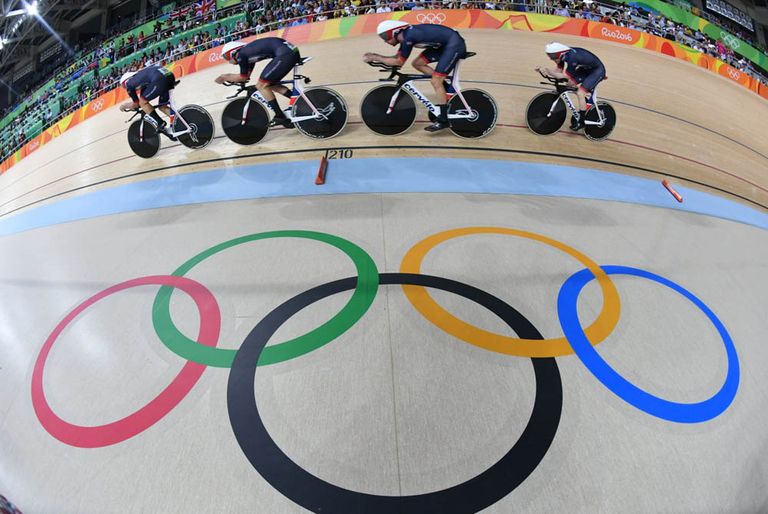 (Image credit: Watson)
First it was Chris Hoy, now it's Bradley Wiggins and by the end of the Games it could be Jason Kenny too. British Olympic legend Steve Redgrave has joked he is "getting fed up" with Great Britain's Olympic cyclists equalling and eclipsing his record of five gold medals.
"I used to have the most gold medals in British Olympic history and now two of them have gone past me, and with Jason [Kenny] it won't be long before he goes past me as well," he told Cycling Weekly in the Rio velodrome after Bradley Wiggins equalled his record with a fifth Olympic gold medal, his eighth in total, with victory in the team pursuit.
>>> Bradley Wiggins: 'I wanted it to end like this'
"But what an honour to be here, I love coming to track cycling," Redgrave added. "It was an honour to watch Chris get his sixth gold medal [in London], I did say that I was going to come out of retirement and catch him up again, but that was never going to be the case. It's just been an honour to be around them [Chris and Bradley], I respect them so much."
The 54 year-old former rower, who won gold medals at the Los Angeles, Seoul, Barcelona, Atlanta and Sydney Games, said he thought Wiggins' achievement outstripped his own because he had come back from winning the Tour de France on the road and inspired the team around him.
"You think about when it's all over, and then you think 'how the hell did I do that?' and get it right on one day, once every four years, five times over," he said of winning multiple golds.
"Bradley has done so much more; his character, his enthusiasm, his way of doing things a little bit differently, rubs off and motivates people. It's not just the motivating factor to the guys on his team, it's the whole cycling team that has a boost from him coming back."
Jason Kenny could win his fifth and sixth gold medals in the individual sprint and keirin in Rio, which would see him eclipse Redgrave and draw level with Hoy.
The 28 year-old, who won team sprint gold on Thursday, looks in good shape to do just that, qualifying fastest in the individual sprint competition with an Olympic record of 9.551 seconds and then comfortably dispatching Max Levy (Germany) in the last 16.