Bradley Wiggins: 'I wanted it to end like this'
Gold in the team pursuit at the Rio Olympics means Bradley Wiggins bows out as Britain's most decorated Olympian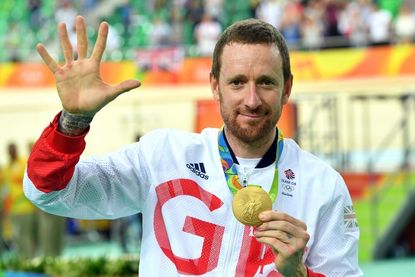 (Image credit: Watson)
Bradley Wiggins got the fairytale ending to his Olympic career that he had been dreaming of with his eighth medal - and fifth gold - in the team pursuit at the Rio Olympic Games.
With Ed Clancy, Owain Doull and Steven Burke, Great Britain were pushed to the very limit by arch-rivals Australia in a fitting climax to the team pursuit competition and the 36-year-old was delighted with his the final race of his Olympic career.
"I wanted to go out with this. I wanted it to end like this, not some crappy little race in northern France - Paris-Tours - climbing off in the feed zone. It's brilliant," he said after collecting his gold.
Wiggins spoke of the relief at ending his Olympic odyssey on a high and the knowledge that the intense build-up to the Games is finally over.
>>> 'Spectacular,' 'impressive,' 'unbelievable': rivals react to Bradley Wiggins and GB men's team pursuit gold
"Now it's done, and it's more relief than anything," he said. "I was just saying to myself, thank f*** that's over. I don't have to live with this anymore. It's gone now.
"Two years ago, all this press has been building up. I never underestimated it [the challenge] for one minute, I gave up the road, and gave up the big salary and I was just a number again.
"Eighteen months ago, there were doubts that I could come back and do this. It was gold or nothing for this team. The last 12 months, we have done everything together. Training camps, even cycling on Christmas Day. It was all for this."
Wiggins also praised his Australian rivals for pushing Great Britain so hard in the final, with just 0.743 seconds separating the two teams at the end of 16 laps of the Rio track.
"Hats off to the Australians - they're the reason we get up in the morning," Wiggins added. "It was a horrible race to be in. It's all over in a flash. It's all about executing a plan, in a final like that, to hold your bottle for the last six laps."
>>> The all-time list of Britain's most successful Olympic cyclists
Wiggins will bow out from cycling at the Tour of Britain (September 4-11) and the Ghent Six (November 15-20), where he will team up with Mark Cavendish. For now though, his focus is on celebrating his medal and returning home.
We're going out now. I'll be hungover tomorrow, but I am trying to soak it all up," he said. "My kids need a proper dad in their lives. My wife needs a proper husband."
Thank you for reading 20 articles this month* Join now for unlimited access
Enjoy your first month for just £1 / $1 / €1
*Read 5 free articles per month without a subscription
Join now for unlimited access
Try first month for just £1 / $1 / €1