Gold for Great Britain in men's team sprint at Rio Olympics
Philip Hindes, Jason Kenny and Callum Skinner beat New Zealand to take gold in the men's team sprint at the Rio 2016 Olympic Games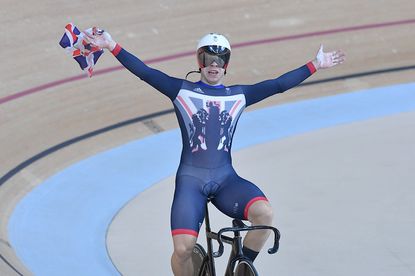 (Image credit: Watson)
Great Britain have done it again. After years of under-performing in the team sprint they pulled out the stops to ride to an astonishing gold in Rio and take their third Olympic title in three consecutive Games.
The trio of Philip Hindes, Jason Kenny and Olympic debutant Callum Skinner beat world champions New Zealand by just one tenth of a second, setting their second Olympic record of the night and taking the gold medal.
Having failed to register a result in world championships since 2011 the Brits rode the perfect final.
Philip Hindes rode a 17-second opening lap as Jason Kenny laid off him by just a couple of metres.
This allowed Kenny to run at Hinde's back wheel as he swung up after completing his lap, but crucially Callum Skinner, riding at his first Olympic Games and shouldering all the pressure as man three, was nestled in behind Kenny, right on his wheel, perfectly positioned to hide in his slip stream.
As the New Zealand team found themselves slightly stretched under the frenetic pace, GB were producing their greatest ever performance – faster even than Sir Chris Hoy ever went.
Callum Skinner is undoubtedly the surprise package in this team. Both Hindes and Kenny were part of the winning team in 2012 and were the fastest riders at the world championships in London this March. The only reason GB didn't get a result was because Skinner simply couldn't produce the acceleration to keep up with his two team mates.
>>> Rio 2016 Olympic Games: Latest news, reports and info
Tonight he nailed it. In all three rounds he was straight on to Kenny's rear wheel saving as much energy as he could at 65kmph before riding the final lap. It's a role that comes with the tag 'the next Chris Hoy' and has done for several riders on the British squad.
Matt Crampton, Kian Emadi, Lewis Oliva and even Ed Clancy have all tried their hand at the position, but none have managed to fill considerable hole left by Hoy.
More from the Olympics
Chris Boardman: Great Britain's rivals must be thinking 'oh no'

Phil Hindes: They had to put a bigger gear on me to slow me down

Great Britain women's team pursuiters set new world record in Rio Olympics qualifying

The man himself was cheering from the BBC commentary tribune and has predicted that if the team won tonight, Jason Kenny would go on to win three gold medals in Rio. If he does, that would put him on six golds and one silver, a tally equal to Hoy's and with at least one more Games in him, more likely another two.
In the bronze medal final the French narrowly beat the Australians, over-turning a tiny deficit in the final half a lap.
The French have won a medal in every running of the team sprint at the Games, although it hasn't been gold since that first edition in Sydney, 2000. On that day the Australians took bronze, a result they haven't better, or equalled, ever since.
Result
Rio 2016 Olympic Games, men's team sprint finals
1. Great Britain 42.440 [Olympic record]
2. New Zealand 42.542
3. France 43.143
4. Australia 43.298
Thank you for reading 20 articles this month* Join now for unlimited access
Enjoy your first month for just £1 / $1 / €1
*Read 5 free articles per month without a subscription
Join now for unlimited access
Try first month for just £1 / $1 / €1