Great Britain women's team pursuiters set new world record in Rio Olympics qualifying
Elinor Barker, Laura Trott, Joanna Rowsell-Shand and Katie Archibald set a new world record and qualify fastest in the Rio 2016 Olympic Games women's team pursuit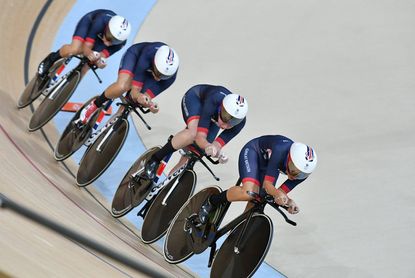 (Image credit: Watson)
Britain's women's team pursuit quartet set a new world record to qualify fastest with a 4.13.260 minute ride at the Rio 2016 Olympic Games on Thursday.
The ride put them ahead of world champions USA with a one-second buffer, while the Australians - who suffered a serious crash in training just days ago - were in third almost six seconds slower.
The British quartet of Elinor Barker, Laura Trott, Joanna Rowsell-Shand and Katie Archibald rode a technically clean four kilometres while the Americans, who are likely to be their main rivals for the title, looked fast but ragged.
>>> Rio 2016 Olympic Games: Latest news, reports and info
World champions USA will be closer to the Brits in tomorrow's rounds if they can clean up their changes and perhaps start a little slower. They were almost 1.5 seconds up on the Brits after less than a kilometre, but their speed dropped off rapidly when they lost a rider in the final kilometre.
The world record, set in not particularly fast conditions on a brand new track, came just minutes after the British team sprint trio set an Olympic record to qualify fastest in their event.
A 4.13 minute ride is three seconds faster than Great Britain's best, set in London in March.
Round one and then the medal finals will take place on Friday.
All you need to know about the team pursuit
Women's team pursuit qualifying result
1. Great Britain 4-13.260 [World record, Olympic record]
2. USA 4-14.286
3. Australia 4-19.059
4. Canada 4-19.599
5. New Zealand 4-20.061
6. China 4-25.246
7. Italy 4-25.543
8. Poland 4-28.988
9. Germany 4-30.068 [did not qualify]
Thank you for reading 5 articles this month* Join now for unlimited access
Enjoy your first month for just £1 / $1 / €1
*Read 5 free articles per month without a subscription
Join now for unlimited access
Try first month for just £1 / $1 / €1