Thomas on Team GB: We can still improve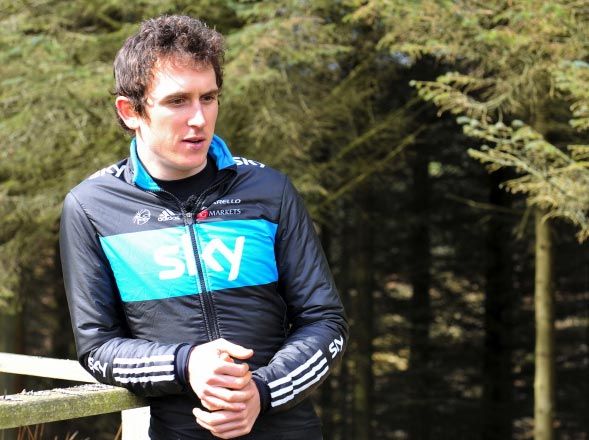 Geraint Thomas has said that Britain's team pursuiters could improve further after their record-breaking ride at the Track World Championships in Melbourne last week.
Welshman Thomas was part of the British team pursuit quartet that overhauled Australia in the gold medal final in Melbourne, setting a new world record in the process. The next target is for Britain to try and defend its Olympic team pursuit title at the London 2012 Games this August. Thomas says the team will do anything but rest on it laurels between now and then.
"I definitely think we can improve, if I spend more time on the track I will improve a lot more," said Thomas.
"From the Worlds in 2008 to the Beijing Olympics we improved nearly three seconds and I think we can similar again. We've still got a lot of training to do and it's part of the plan to keep pushing forward and I think, for sure, we can improve another couple of seconds."
Thomas has decided to focus solely on his participation in the London 2012 Olympic Games rather than attempting to ride the Tour de France with the Sky squad in July, and then switch back to the track.
"Wales doesn't have lots of chances for a gold medal so I'm proud to be in this position," Thomas continued. "I felt with the Tour, leading up to the games it would have drawn my attention away from the track; I wanted to give the Olympics everything."
"I've grown up watching the Olympics, wanting to be part of it. I want to get on the start line in London and know I haven't jeopardised my chances in any way. I don't want to get there with any excuses or doubts in my head. Hopefully it will be enough on the day, and if not, that's the way it is; I'll have no excuses."
Thomas returned home from Australia earlier this week, and was out on Wednesday riding a 30-mile stretch of the Etape Cymru cyclo-sportive route in North Wales. Thomas is an ambassador for the ride, which takes place on closed roads on Sunday September 9. Proceeds from the ride go to Macmillan Cancer Support and Nightingale House Hospice.
"I really enjoy coming back to Wales to ride, the roads are unbelievably challenging but at the same time provide really nice scenery so there is plenty to look at on the way round," said Thomas.
"The Etape Cymru route has been designed with some great climbs and includes some spectacular roads. And it's in Wales, at the end of the day, it's the best country in the world."
More information on the ride and online entry can be found on the Etape Cymru website.
Geraint Thomas riding part of the Etape Cymru route on Wednesday
Related links
Track World Championships 2012: Coverage index
Geraint Thomas: Rider profile