Tremendous Trott eliminates the rest in Olympic omnium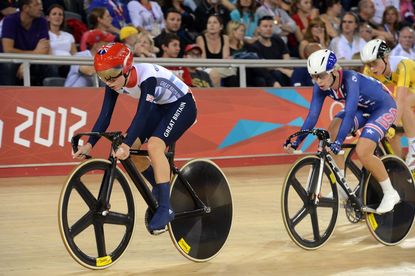 The crowd in the velodrome tonight were treated to another spectacle from Britain's Laura Trott, winning the omnium elimination race. Her tactics and exceptional race craft whipped them up in to a frenzy that saw 6,000 people chanting her name as she came in to the final lap.
Chanting was replaced by a roar as she sprinted away from Sarah Hammer (USA) in the back straight opening up half a dozen bike lengths with just a few turns of the pedal, winning with ease.
Trott may well be the best bike racer in the whole of the British squad. Her tactics, positioning and bunch riding defy belief as she surges through gaps that don't exist time and time again. And not once did she put any other rider in danger.
The elimination race is perfectly suited to her abilities as the 'last one out' system every second lap sees the bunch ride together and surge across the line each time a rider is eliminated. It's all about positioning
At the London world cup in February Trott put on a show that almost made a mockery of the field. For the second half of the race she sat at the back and sprinted past everyone in the final metres. Each time it looked like she wasn't going to make it, each time she did.
It had the crowd on their feet. She didn't, however, use the tactic here, instead spending more time on the front, the safest place to be. The few times she was stuck at the back she rode through the middle of the bunch to get out of trouble. Each time sending the crowd wild.
On the last lap it was her against Hammer, but there was no contest as the 20-year-old Briton accelerated away down the back straight with ease.
The two now lead the omnium on 12 points after three events. Trott also won the flying lap, beating French sprinter Clara Sanchez by just 0.001 second. She was, however, marked out of the points race and so couldn't gain a lap as nine other riders did.
Trott's strongest event, the 500m time trial is the last one on the six event program that concludes tomorrow. In the individual pursuit there should be little between her, Hammer, Annette Edmondson (Australia) and Tara Whitten (Canada) making scratch race crucial.
London 2012: Live text coverage of cycling events
August 5: Track cycling day four
August 4: Track cycling day three
August 3: Track cycling day two
August 2: Track cycling day one
August 1: Men's and women's time trials
July 28: Men's road race
July 29: Women's road race
London 2012: Latest news
Comment: Hindes's purposeful crash - fair or foul?
New format for team pursuit explained
Pendleton and Varnish out of team sprint
'Hot pants' key to Pendleton and Hoy sprint
Britain's sprinters looking to continue GB medal haul
Wiggins: Tour was perfect Olympic TT preparation
Olympic time trial round-up
Pendleton warms up for London 2012
Cancellara in, Evans out of time trial
CW eyewitness: Remember the name
Cavendish finds solace in commitment of his team mates
London 2012: Team info
Men's road race start list
Women's road race start list
Men's time trial start list
Women's time trial start list
Team GB rider profiles
Great Britain track team confirmed
Bronzini leads Italian Olympic cycling team
British Olympic men's road race team announced
Armitstead and Cooke lead GB women's road cycling team
London 2012: Event guides
Mountain bike event guide on www.mbr.co.uk (opens in new tab)
Olympic Games men's time trial: Who will win?
Olympic Games women's time trial: Who will win?
Olympic time trial routes announced
Olympic Games women's road race: Who will win?
Olympic Games men's road race: Who will win?
Download detailed Olympic road race route map
London 2012 cycling schedule
London 2012: Reports
Bronze for Clancy while Pendleton marches on
Pendleton sets new Olympic record to qualify ahead of Meares
Trott, King and Rowsell keep gold medals coming
Kenny lights up a stuttering men's sprint competition
Track day two: Pendleton and team pursuiters deliver more gold
Track cycling day one: Hoy leads team sprinters to gold
Wiggins wins gold in men's time trial, bronze for Froome
Armstrong defends Olympic title in women's time trial
Cycling events medal table
Women's road race: Armitstead wins silver as Vos strikes gold
Men's road race: Vinokourov wins as Cavendish misses out
London 2012: Photos
Track day four evening session by Andy Jones
Track day four evening session by Graham Watson
Track day four morning session by Andy Jones
Track day four morning session by Phil O'Connor
Track day three evening session by Andy Jones
Track day three evening session by Phil O'Connor
Track day three morning session by Andy Jones
Track day two by Phil O'Connor
Track day two by Graham Watson
Track day one by Andy Jones
Track day one by Phil O'ConnorTrack day one by Graham Watson
Men's time trial by Graham Watson
Women's time trial by Graham Watson
Pendleton track training
Women's road race by Andy Jones
Women's road race by Graham Watson
Men's road race by Andy Jones
Men's road race by Phil O'Connor
Men's road race by Graham Watson
Team GB road race training on Box Hill (July 26)
London 2012: Podcasts
Cycling Weekly podcasts on Soundcloud
London 2012: TV schedule
London 2012 BBC TV cycling coverage schedule
London 2012 Eurosport cycling coverage schedule
Related links
CW's dummies' guide to track racing
World's best BMXers in London 2012 test event
Olympic road race test event: Report card
Cavendish wins London-Surrey Cycle Classic
London-Surrey Cycle Classic photo gallery
Olympic road race route officially revealed
London 2012 tickets on sale from March
Thank you for reading 5 articles this month* Join now for unlimited access
Enjoy your first month for just £1 / $1 / €1
*Read 5 free articles per month without a subscription
Join now for unlimited access
Try first month for just £1 / $1 / €1