Trott, King and Rowsell keep gold medals coming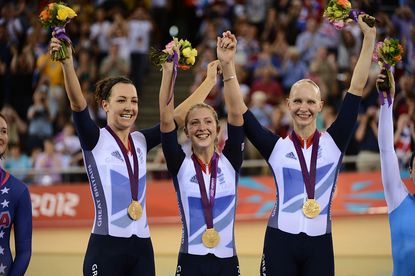 Three rides, three world records, and at the end of it all, three Olympic gold medals. The British women's team pursuit trio dominated their event in London even more so than their male counterparts.
The team of Laura Trott, Dani King and Joanna Rowsell put together three sensational rides through the competition to become the first Olympic champions in this event, and bring the world record down to three minutes, 14.051 seconds. Prior to the London world cup in February this year that record had stood stubbornly at the three minute 19 second mark.
"Words can't describe how I'm feeling, it's just an incredible feeling and I don't think this smile is going to come off my face for a long time," said Dani King, who wasn't even riding a bike back in 2005 when London was announced as the Olympic host city.
"It hasn't really sunk in yet, it's been such an incredible week starting with Lizzie [Armitstead] on Sunday," said Rowsell. "It's great to be part of that and keep the golds going."
This was perhaps the most formidable performance of all the British cyclists who have so far won five gold medals, one silver and a bronze (four wins out of five on the track). They faced the American team of Sarah Hammer, Dotsie Bausch and Jennie Reed in the final who had posted a time of 3-16.8 minutes in their first round ride just an hour before. This significantly closed the gap on the British trio who were light years ahead of everyone else in yesterday's qualifying round.
But in the final GB were always in front, and even had the Americans in their sights in the final few laps. That and the incredible noise from the crowd spurred them on to set their third world record in three rides.
This trio has in fact broken the world record the last six times they have ridden, dating back to February's world cup here in London.
"We've been working so hard and making gains all the time in training. I just want to thank Paul [Manning] our coach who has been incredible. We've had some tough training camps and come together today. It's been a dream come true." Said King.
Canada won the bronze, beating Australia in their final
In the morning's session Jason Kenny set a new Olympic record in the men's sprint, beating Gregory Bauge (France) by two tenths of a second. Both received a bye in the 1/16 finals that came next, and cruised through their 1/8 finals. If all goes to form they should meet in Monday's gold medal final.
Kenny's flying 200m time confirms the Briton is in blistering form, although multiple sprint world champion Bauge is still the man to beat.
Ed Clancy finished day one of the men's omnium in fourth place on 17 points. Frenchman Bryan Coquard leads on ten after winning the elimination race. Clancy won the opening round, the flying lap, posting a 200m time that would have qualified him fifth in the sprint competition.
Eleventh in the points race dropped him down the standings, but a good ride in the elimination race saw him finish fifth. Several times he used the Laura Trott tactic of hanging off the back before charging down the outside in the final straight to get ahead of the riders stuck at the bottom of the track.
It worked several times, but in the end he sat up and let the four riders left ride off to contest the places. Clancy's best event, the kilometre time trial is still to come, and he should place well in the individual pursuit, making the scratch race decisive.
Jason Kenny in the sprint
Men's omnium scratch race
Ed Clancy in the omnium scratch race
Great Britain's women team pursuiters
Dani King, Joanna Rowsell and Laura Trott come in to the line
King, Trott and Rowsell win gold
Omnium elimination race
London 2012: Live text coverage of cycling events
August 4: Track cycling day three
August 3: Track cycling day two
August 2: Track cycling day one
August 1: Men's and women's time trials
July 28: Men's road race
July 29: Women's road race
London 2012: Latest news
Comment: Hindes's purposeful crash - fair or foul?
New format for team pursuit explained
Pendleton and Varnish out of team sprint
'Hot pants' key to Pendleton and Hoy sprint
Britain's sprinters looking to continue GB medal haul
Wiggins: Tour was perfect Olympic TT preparation
Olympic time trial round-up
Pendleton warms up for London 2012
Cancellara in, Evans out of time trial
CW eyewitness: Remember the name
Cavendish finds solace in commitment of his team mates
London 2012: Team info
Men's road race start list
Women's road race start list
Men's time trial start list
Women's time trial start list
Team GB rider profiles
Great Britain track team confirmed
Bronzini leads Italian Olympic cycling team
British Olympic men's road race team announced
Armitstead and Cooke lead GB women's road cycling team
London 2012: Event guides
Olympic Games men's time trial: Who will win?
Olympic Games women's time trial: Who will win?
Olympic time trial routes announced
Olympic Games women's road race: Who will win?
Olympic Games men's road race: Who will win?
Download detailed Olympic road race route map
London 2012 cycling schedule
London 2012: Reports
Kenny lights up a stuttering men's sprint competition
Track day two: Pendleton and team pursuiters deliver more gold
Track cycling day one: Hoy leads team sprinters to gold
Wiggins wins gold in men's time trial, bronze for Froome
Armstrong defends Olympic title in women's time trial
Cycling events medal table
Women's road race: Armitstead wins silver as Vos strikes gold
Men's road race: Vinokourov wins as Cavendish misses out
London 2012: Photos
Track day three morning session by Andy Jones
Track day two by Phil O'Connor
Track day two by Graham Watson
Track day one by Andy Jones
Track day one by Phil O'Connor
Track day one by Graham Watson
Men's time trial by Graham Watson
Women's time trial by Graham Watson
Pendleton track training
Women's road race by Andy Jones
Women's road race by Graham Watson
Men's road race by Andy Jones
Men's road race by Phil O'Connor
Men's road race by Graham Watson
Team GB road race training on Box Hill (July 26)
London 2012: Podcasts
Cycling Weekly podcasts on Soundcloud
London 2012: TV schedule
London 2012 BBC TV cycling coverage schedule
London 2012 Eurosport cycling coverage schedule
Related links
CW's dummies' guide to track racing
World's best BMXers in London 2012 test event
Olympic road race test event: Report card
Cavendish wins London-Surrey Cycle Classic
London-Surrey Cycle Classic photo gallery
Olympic road race route officially revealed
London 2012 tickets on sale from March
Thank you for reading 5 articles this month* Join now for unlimited access
Enjoy your first month for just £1 / $1 / €1
*Read 5 free articles per month without a subscription
Join now for unlimited access
Try first month for just £1 / $1 / €1