Wiggins hails strongest ever Olympic team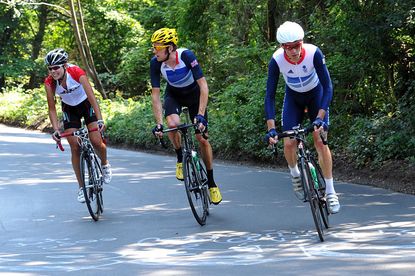 Bradley Wiggins believes the Great Britain men's road squad is the best team ever assembled for an Olympic Games.
The GB team consists of himself; winner of the Tour de France and two time trial stages. Chris Froome; second in the Tour de France, winner of a stage and the best climber in the race. David Millar; stage winner in the Tour and with 13 years of experience, and Ian Stannard; British national champion and Team Sky strong man.
The rider they are working for is Mark Cavendish, winner of three stages of the Tour, and the best sprinter in the world.
The confidence was clear to see yesterday at a press conference held at their hotel in Ottershaw. "We don't look at it like this, as we're all quite humble with our results, but externally we must look like an incredibly dominant force," Wiggins said.
The British team go in to Saturday's 250km race with one goal - deliver Mark Cavendish for the sprint. "It's no secret and people know what we're up to. It's up to others to combat that. Our job is simple and it's no secret that Cav wants to win it," said Wiggins.
"Mark is plan A and the rest of the alphabet. If we don't win with Mark, we're not winning," Performance Director Dave Brailsford said.
The plan is fairly simple. Move Cavendish to the front of the peloton for the beginning of each assent of Box Hill then allow him to climb at a pace he can sustain. When at the top, his four team mates will take him forwards again.
Once the race comes off the Box Hill loop and starts the run-in to London, the four riders will have to ride Cavendish back to the front, whether or not they're off the back, bringing back a break, or holding the bunch together.
David Millar will be road captain, and without race radios it will be down to him to make the calls on the road. "My role is panic management, making sure if things go wrong we can get a grip of it again," he explained. "There are so many variables over 250kms, there are those situations that arise that we have to adapt to on the road. My role is to handle the unforeseen."
"There's no point hiding what we going to do. We'll be riding Mark's race and control it to his speed, not the race's speed. There'll be races within races and it's up to us to manage it from start to finish in a manner to get us there."
"All you can do is have it together in the last kilometre so Mark can sprint. It doesn't matter if we're catching people with 500m to go as long as we're there with Mark to do that."
London 2012: Live text coverage of cycling events
July 28: Men's road race
July 29: Women's road race
London 2012: Latest news
Tickets for Box Hill? You may need another...
Bradley Wiggins' UKSI Olympic bike
Hoy helicoptered in for opening ceremony
Box Hill closed after local riders give security the slip
Boonen and Gilbert train on Box Hill Olympic circuit
Goss fresh for Olympic Games assault
Trott on top: London 2012
Hoy to be GB flag bearer at London 2012 opening ceremony
Millar: I think about Olympics all the time
Cavendish recognises advantage in missed Tour chances ahead of Olympics
Kenny not Hoy selected for London 2012 sprint
German and French Olympic teams sneak in fourth sprinter
Cavendish: GB's best bet for Olympic gold
London 2012: Team info
Men's road race start list
Women's road race start list
Men's time trial start list
Women's time trial start list
Team GB rider profiles
Great Britain track team confirmed
Bronzini leads Italian Olympic cycling team
British Olympic men's road race team announced
Armitstead and Cooke lead GB women's road cycling team
London 2012: Event guides
Olympic Games men's road race: Who will win?
Download detailed Olympic road race route map
London 2012 cycling schedule
London 2012: Reports
To come...
London 2012: Photos
Team GB road race training on Box Hill (July 26)
London 2012: Podcasts
Cycling Weekly podcasts on Soundcloud
London 2012: TV schedule
London 2012 BBC TV cycling coverage schedule
Thank you for reading 20 articles this month* Join now for unlimited access
Enjoy your first month for just £1 / $1 / €1
*Read 5 free articles per month without a subscription
Join now for unlimited access
Try first month for just £1 / $1 / €1