Orica-BikeExchange rider is latest to share fears about disc brakes in pro peloton
Sam Bewley posts a picture of an injury he claims was caused by a disc brake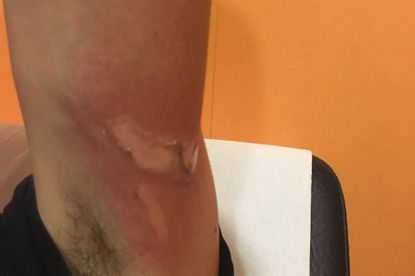 Orica-BikeExchange's Sam Bewley became the latest rider to warn of the dangers of introducing disc brakes into pro cycling by uploading a picture of an injury he suffered as a result of them.
The Kiwi took to Twitter to show his followers a pretty nasty injury, reportedly caused by landing on a hot disc brake, which left him with a wound to his upper arm.
"This is what happens when a hot disc brake lands on skin. Imagine a bunch crash on the road with multiple hot rotors," he wrote
Several other riders have voiced their concerns about the plans to roll out disc brakes in the pro peloton, with a UCI trial suspended when Movistar's Fran Ventoso claimed a severe cut to his leg was caused by a disc brake at Paris-Roubaix.
The UCI has not made public any plan to re-start the trial, but it is thought to only be a matter of time before disc brakes are seen in racing again, with manufacturers rolling out such systems to the mass market.
Thank you for reading 20 articles this month* Join now for unlimited access
Enjoy your first month for just £1 / $1 / €1
*Read 5 free articles per month without a subscription
Join now for unlimited access
Try first month for just £1 / $1 / €1