Riders from Chad Young's home town come together to remember his life
Over 70 riders gathered at Exeter Cycles, where Young used to ride from, in honor of the late rider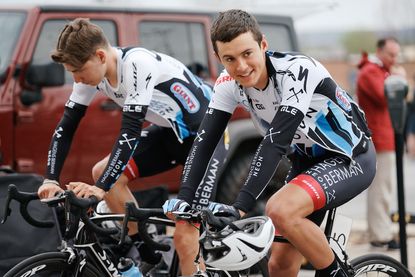 (Image credit: Davey Wilson)
For the past 25 years, cyclists have gathered for a weekly Wednesday night ride out of a small New Hampshire town, but this past Wednesday's ride meant more to those that knew Chad Young.
Over 70 riders gathered at Exeter Cycles to celebrate Young, the 21-year-old who passed away after crashing on a high-speed descent during the last stage of the Tour of the Gila in Silver City, New Mexico last week.
>>> Tao Geoghegan Hart pays tribute to former team-mate Chad Young
Young was a common participant on this ride since he was a junior, starting out by hanging on with the elder statesman and eventually leading the group over the course of the 25-mile route called the "Wiswall Circuit".
He grew up in nearby Newmarket and graduated from the local St. Thomas Aquinas High School. Groups from the surrounding Seacoast turned out in numbers to make this past Wednesday's ride particularly special.
"It's where we first met Chad and how he cut his teeth in getting started at the competitive level," ride organizer and family friend of the Young's Dylan McNicholas said to Fosters.com.
"In recent years, there's other groups around the Seacoast that formed so I reached out to them and asked if we could consolidate into one ride.
"Everybody knew Chad. The response and turnout far-exceeded my expectations. It was a nice atmosphere, a lot of people were talking and sharing stories. Just appreciating coming together and doing something we all enjoy and something Chad enjoyed."
McNicholas took Young under his wing and they travelled to many races together as he was moving up the ranks.
"He was the kid you want to pick your daughter up for prom. The kid you want in your class, on your team, as your co-worker. At his age, he was mature beyond his years."
His death shocked his family, friends, Axeon Hagens Berman teammates and the greater cycling community.
Although Wednesday's ride wasn't initially planned to be a memorial ride, it grew naturally by itself. Exeter Cycles Owner John Gromek had known Young since his first visit to the shop six years ago and said, "He was unwavering in his direction. Just an admirable young man.
"He was smart, energetic, very polite and humble. His brother said in a note he wrote that he didn't ask for any more than he needed."
In memory of Young, his family has started a foundation to fund scholarships at St. Thomas Aquinas High School and the Colorado School of Mines, where chad was studying mechanical engineering.
Those interested in donating can make checks payable to the Chad William Young Foundation, addressed to the Northeast Credit Union, PO Box 1240, Portsmouth, New Hampshire 03802.
"Chad was just such a nice guy," Gromek continued. "As a young teenager, he could keep up with the mature adults. He was so well-liked, always smiling. You think of Chad and you can't help but smile."
Thank you for reading 10 articles this month* Join now for unlimited access
Enjoy your first month for just £1 / $1 / €1
*Read 5 free articles per month without a subscription
Join now for unlimited access
Try first month for just £1 / $1 / €1