2016 Tour de France to start in Normandy
Tour de France returns to a 'home' start in 2016, hosted by the Manche department, Normandy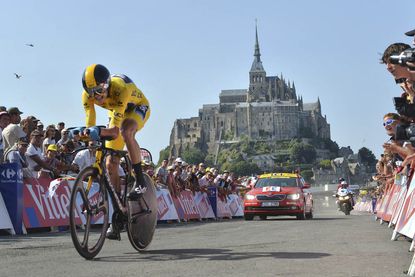 (Image credit: Watson)
The 2016 Tour de France will begin in the country's northwest, in the Manche department of Normandy. It will mark a return home after two years abroad in Yorkshire in 2014 and in Utrecht, the Netherlands, in 2015.
Organiser Amaury Sport Organisation (ASO) confirmed the start on Monday. In over 100 years, since it began in 1903, the race has never pushed off from the department.
The Manche department is known for its hilltop island abbey, Mont Saint-Michel. The Tour finished at the foot of the UNESCO world heritage site in 2013 when German Tony Martin (Omega Pharma) won the time trial and Sky's Chris Froome gained time on his rivals that helped him win the race overall.
ASO will announce the start city at a press conference on December night. It is expected to include Mont Saint-Michel or pass nearby to mark one year since the completion of a new foot bridge that improves the island's stability.
In its history of going abroad, the Tour has never done so two years in a row. After its start in Leeds, Yorkshire, the three-week stage race will kick off in Utrecht before travelling through Belgium in 2015.
Foreign governments pay large sums of money to host cycling's biggest race. Dutch website RTL Nieuws accessed a public quarterly report and revealed that Utrecht will pay ASO €4m or £3.13m for the Grand Départ, which includes three lead up days, the Saturday start on July 4 and of course, all the related publicity that the race brings.
The Tour de France last began at home in 2013 when it marked its 100th edition with a first-time Corsica visit. After three stages on the island, it returned to the mainland. Its first edition in 1903 began in Paris.
More on the Tour de France
Figures leaked to the York Press reveal that York Council overspent by £60,000 on the planning stage, while losing money
Dutch city of Utrecht paid Tour de France organiser ASO €4m to host the Grand Depart of the 2015 race
Thank you for reading 10 articles this month* Join now for unlimited access
Enjoy your first month for just £1 / $1 / €1
*Read 5 free articles per month without a subscription
Join now for unlimited access
Try first month for just £1 / $1 / €1