Utrecht pays a reported €4m for Tour de France start
Dutch city of Utrecht paid Tour de France organiser ASO €4m to host the Grand Depart of the 2015 race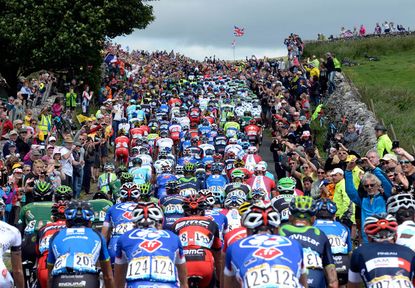 (Image credit: Graham Watson)
The Tour de France will reportedly pocket €4m or £3.13m for allowing Dutch city Utrecht host the start of its 2015 race. Race organiser ASO keeps such numbers secret, but Yorkshire would have paid a similar price to host the 2014 stage race.
Dutch website RTL Nieuws accessed a public quarterly report where the figures were printed. Utrecht will pay French organiser ASO €4m to have the Grand Départ, which runs from Wednesday through to the race start on Saturday, July 4, and includes the team presentation ceremony.
ASO and Utrecht announced the start on November 8, 2013. Last month, ASO confirmed the rest of the three-week route to Paris. The riders will race a 14-kilometre time trial in Utrecht on day one and depart from the city for Neeltje Jans on day two. The race enters Belgium before completing the majority of its loop in France.
RTL said that the €4m sum is more than Rotterdam paid to host the 2010 start, which it reported was €2.5m (£1.96). However, it stands inline with the Grand Tour organisers' formula because the more time the race spends in a city, the more it asks. Cities that host only a start or finish of a stage will pay less. The cost varies, but reportedly runs up to €80,000 for some finish hosts. Start hosts pay less.
When Utrecht announced it would host the Tour's 2015 Grand Départ, it said that it proposed a €10m (£7.83m) budget with half from the city and half from private businesses. RTL reported that the budget grew to €15.2m (£11.9m) with €6.3m of that in private funds.
The UK start, from the Wednesday three days before the race began in Leeds to the Monday finish in London, required a £27m (€34m) budget. Yorkshire's budget was around £10.6m (€13.5m) according to several reports, which is closer to Utrecht's €15.2m.
"The start of the Tour de France in Utrecht is good for the Netherlands, good for the city and the region, and good for sport. It is a fantastic party," then mayor, Aleid Wolfsen told Dutch website NU last year. "The fact that the Tour is coming to Utrecht is a culmination of everyone's efforts."
The Tour de France charges the most compared to cycling's other race organisers, but it is worth it because economic impact on the host's economy is estimated to be 10 times greater than the investment.
More on the 2015 Tour de France
What the best cyclists in the world have to say about the route of the 2015 Tour de France
International cycling news round-up (Nov 28): Sky's Hunt joins Premier League; Carera improves; Giro wildcard shortlist; FDJ renews
Netherlands city of Utrecht will host the Grand Depart of the 2015 Tour de France
Thank you for reading 5 articles this month* Join now for unlimited access
Enjoy your first month for just £1 / $1 / €1
*Read 5 free articles per month without a subscription
Join now for unlimited access
Try first month for just £1 / $1 / €1