Mark Cavendish recognises advantage in missed Tour chances ahead of Olympics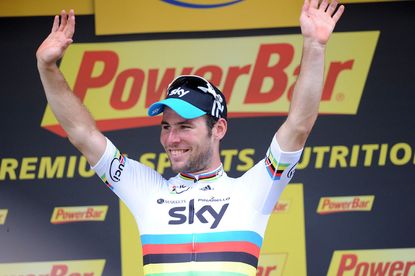 World champion sprinter Mark Cavendish sees a silver lining in his missed chances at the Tour de France and ahead of the London Olympic Games road race - a week from today.
Cavendish celebrated an emphatic victory at the end of stage 18 of the Tour yesterday bringing his career tally to 22 and equalling Andre Darrigade and Lance Armstrong on the all-time stage win list at fourth.
The 27-year-old has been left to his own devices in sprint stages at the 99th edition of the race this season with his new Sky team solely dedicated to the general classification ambitions of yellow jersey leader, Bradley Wiggins.
Sky's determination to see Wiggins in yellow and realise one of its founding objectives has reduced Cavendish's opportunities to contest stage wins at the Tour. It's been an adjustment for the Manxman and a contrast to previous seasons where he has had a full team dedicated to his ambitions.
Australian Michael Rogers had Sky's overall goal in mind when made the difficult call in stage 15, considered a flat race for the sprinters, to let a break go instead of reeling it in and setting-up Cavendish for a potential win.
The Olympic Games gold medal hopeful Cavendish will have the full support of Team GB, including Wiggins, at the 250km London 2012 road race on July 28.
Cavendish already has more race days under his belt than other Olympic rivals after completing the Giro d'Italia in May, which most sprinters abandoned after the second week.
The more limited opportunities at the Tour this year may have been disheartening for the prolific stage winner, who is supportive of Sky's aim, but could too work to his advantage in a week's time.
"In hindsight it might have been good not to go for sprints," Cavendish told Cycling Weekly the night before his second stage win of the Tour.
He as an example referred to stage 13, which Andre Greipel (Lotto-Belisol) won after clearing a category three climb in the final 20km.
"Some of the days, like the stage Greipel won down in the south of France, if I was going full-out for sprints, with a sprint team, I would have gone deep to get over that climb and that would take energy. It could be a blessing."
Cavendish pleaded for the opportunity to race for line honours yesterday and got it with Wiggins and Edvald Boasson Hagen doing their bit to support him within the final 2km.
Wiggins will look to sew-up the yellow jersey in today's penultimate time trial stage with Sky set to try and help deliver Cavendish to a fourth consecutive stage win on the Champs-Élysées tomorrow.
"I know that finish really, really well," he said.
"The year when me and (Mark) Renshaw were distanced with the rest of the peloton (finishing one and two in 2009), they've widened that entrance now so it's not really a sharp corner, it's almost a straight line.
"It's an amazing feeling," he continued.
"You hit the tunnel, you come down, you go through the tunnel, you go out the other side and you just hear noise. That's all you hear the whole way around, just noise. You come out and it gives you goose-bumps."
Cavendish is yet to finalise his race program after the Olympics.
Twitter: @SophieSmith86
Thank you for reading 20 articles this month* Join now for unlimited access
Enjoy your first month for just £1 / $1 / €1
*Read 5 free articles per month without a subscription
Join now for unlimited access
Try first month for just £1 / $1 / €1