Geraint Thomas on Sky's Tour de France selection
"Glad I'm not making those decisions" says Welshman Geraint Thomas, after Bradley Wiggins was left out of Sky's line-up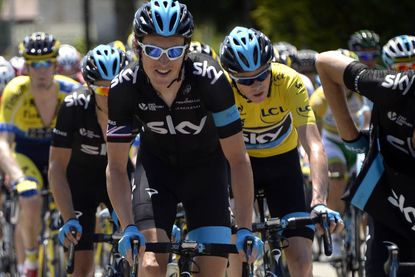 (Image credit: Graham Watson)
After his second place ride in the British time trial championship, Geraint Thomas of Team Sky found himself in a tricky position on Thursday evening as he stepped off the podium in Celtic Manor.
Yards away in an adjacent media scrum, Bradley Wiggins had just announced that he would - definitively and definitely - not be riding the Tour de France. The news passed by osmosis to the press huddled around Thomas and the question was put to him. What did he think? How did he feel about Wiggins' non-participation?
"Well... to be honest I'm glad I'm only a bike rider and I don't have to make any of those decisions," replied Thomas, hardly skipping a beat. When Thomas was quizzed, the Team Sky Tour selection was still hours away from being announced and Thomas wasn't officially able to tell the assembled press that he knew he was going himself.
"All I need to think about is myself and being the in the best shape I can be in and getting in the team and then whoever is alongside me then, you know, I'm happy really, to be honest. I've known Brad a long time and we've been through a lot together so it's disappointing for him, but its just such a strong team that someone is going to miss out."
And that was it, because, in spite of his and Wiggins' shared history (or perhaps because of it), Thomas stayed well clear of any emotional appeals or effusive support for his erstwhile team leader. Truly, there is little room for sentiment in modern bike racing.
As it turned out, in spite of the Yorkshire start, Welshman Thomas is the closest thing to a Englishman that Team Sky has in the nine-man team which will assemble in Leeds, with no Peter Kennaugh, no Ben Swift and no Wiggins, he's the only 'native born' British rider backing Chris Froome in his 2014 Tour bid. Who could have predicted that?
Defending champion Chris Froome leads Team Sky at the 2014 Tour de France
We asked you what you thought about Sir Bradley Wiggins' absence from Team Sky's 2014 Tour de France roster
Thank you for reading 5 articles this month* Join now for unlimited access
Enjoy your first month for just £1 / $1 / €1
*Read 5 free articles per month without a subscription
Join now for unlimited access
Try first month for just £1 / $1 / €1