On-bike cameras capture the carnage of stage five at the Tour de France
Riders slip and fall all over the place on stage five, but Andre Greipel held it together to win his second stage of the 2015 Tour de France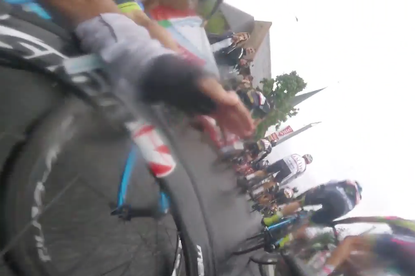 There was a lot of action on Wednesday's stage five of the Tour de France, but unfortunately that involved a fair few crashes, which left a number of riders having to pull out of the race.
As with the previous four days of the Tour, Velon has been recording the action by way of GoPro cameras placed on the riders' bikes, which captured a lot of the carnage from the stage, showing just how hard racing was.
With the rain coming down, dabbing the brakes became a risky manoeuvre as many of the spills were caused by skidding wheels and changes in speed.
And with the roads wet and slippery, when crashes occurred the riders often slid quite a long way on the tarmac while getting tangled up in the other bikes that were strewn across the street.
When all the crashing is over, we see Koen de Kort of Giant-Alpecin hitting the front of the pack in the last kilometre, hoping to set teammate John Degenkolb up for the win.
As it was, Andre Greipel took the win and we can see his post-stage celebrations right at the end of the video.
Watch highlights from stage five of the Tour de France
Thank you for reading 20 articles this month* Join now for unlimited access
Enjoy your first month for just £1 / $1 / €1
*Read 5 free articles per month without a subscription
Join now for unlimited access
Try first month for just £1 / $1 / €1