Vincenzo Nibali disqualified from Vuelta a España for holding onto team car (video)
Astana team leader out of the Vuelta on stage two after being caught on camera taking a tow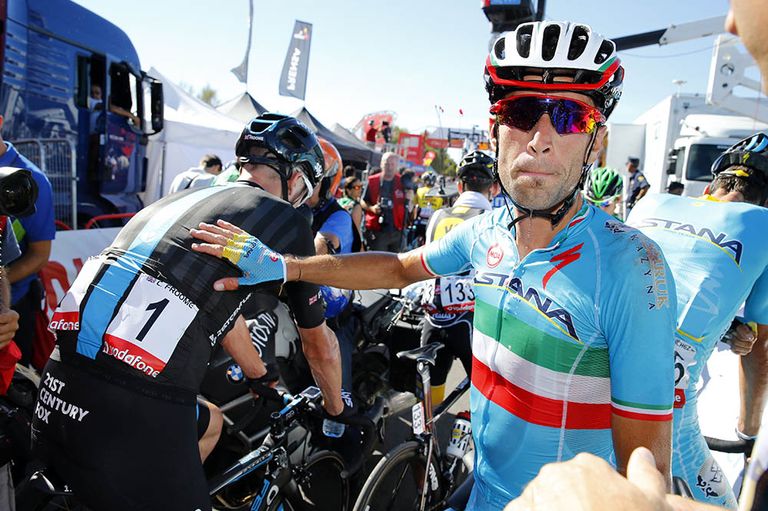 (Image credit: Watson)
Astana team leader Vincenzo Nibali has been disqualified from the Vuelta a España for taking unauthorised assistance from his team car on stage two.
Video footage shows Nibali driving hard to catch up after he was distanced from the front of the peloton by a crash with about 30km to go on the run in to Caminito del Rey. As the Astana team car makes its way past the chasing group and pulls alongside its rider, it appears that the Italian national champion took hold of the vehicle to pull him closer to the peloton.
"We saw the videos," said the race jury president, Bruno Valcic. "We watched the film together with Astana director Stefano Zanini.
"The penalties are really clear — the commissaires had to disqualify Nibali from the race. The sports director driving the car, Alexandre Shefer, is also out of the race."
Astana team manager Guiseppe Martinelli accepted that his team had broken the rules, but told Cycling Weekly: "Any director would have done the same thing in our situation. I've seen this a thousand times before, at the Tour, everywhere.
"If they want to send Nibali home, it'd be a shame."
This incident, and Nibali's absence going forward, opens the door for other Astana riders to take the lead, namely Fabio Aru and Mikel Landa. The two riders finished second and third respectively behind Alberto Contador at the Giro d'Italia earlier this season, and should now have a freer rein as the Vuelta continues.
Despite the more obvious opinion to the contrary, Nibali's absence could be a negative thing for Astana's rivals as the team may have a clearer strategy for the remainder of the race, and could put more man power behind the fresher legs of Aru, for example.
Only time will tell how the race pans out, and if this is the end of the incident. With the controversy over the time neutralisation of the opening stage team time trial and now the removal of one of the favourites on stage two, this has certainly been an exciting opening weekend to the season's final Grand Tour — the racing was pretty good today, too.
Thank you for reading 5 articles this month* Join now for unlimited access
Enjoy your first month for just £1 / $1 / €1
*Read 5 free articles per month without a subscription
Join now for unlimited access
Try first month for just £1 / $1 / €1
Jack Elton-Walters hails from the Isle of Wight, and would be quick to tell anyone that it's his favourite place to ride. He has covered a varied range of topics for Cycling Weekly, producing articles focusing on tech, professional racing as well as cycling culture. He moved on to work for Cyclist magazine in 2017.