Vincenzo Nibali: My punishment was too severe - this happens in every race
Vincenzo Nibali says he doesn't believe he deserved to get thrown off the Vuelta a España for holding on to his team car on stage two after a crash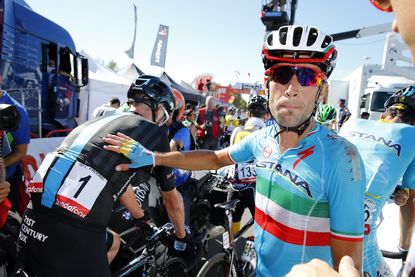 (Image credit: Watson)
Vincenzo Nibali is packing his bags this morning and heading home from the Vuelta a España after only racing 160 kilometres.
The race jury kicked out the 2010 winner after stage two for taking a long tow from his Astana team car while chasing back. The team, however, defends its actions.
Nibali crashed, and blamed Caleb Ewan (Orica-GreenEDGE), with many others at 30 kilometres to race. He chased, sometimes alone, and remained a minute and a half behind.
At 16 kilometres to race to the summit of the Caminito del Rey in southern Spain, the Astana car zipped alongside Nibali, Nibali grabbed on the driver's side door, and they sped ahead of the chase group. It was all caught on video and made its way around the Internet.
The race jury president, Bruno Valcic, after seeing the recording and talking to the team and the Vuelta race director, kicked out Nibali and the sports director driving the car, Alexandre Shefer.
"I saw the video, I know what we did!" Astana team manager, Giuseppe Martinelli told Cycling Weekly.
"Any director would have done the same thing in our situation. I've seen this a thousand times before, at the Tour, everywhere."
Often in cycling, riders take what is called a sticky bottle after a mechanical or crash so that they may rejoin the peloton. Martinelli saw this incident as the same as any others, but one that was caught on video.
He added, "Try to find me an honest person in the peloton."
Shefer went to Nibali's hotel room last night in the foothills of Andalusia overlooking the sea. He cried and said, 'Sorry.' Nibali replied that it is also his fault.
"What happened in the Vuelta, happens in every race," Nibali wrote on his Facebook page. "This does not mean that it is not wrong and that I shouldn't go unpunished. Just that the punishment is too severe.
"I thought I'd get a hefty fine and kicked down the classification. I would've accepted a penalty of 10 minutes! After all, I'm not the first or the last in this type of story."
Nibali returned to the group, but lost time on the climb. He finished the stage 31st, around one minute behind the favourites with Sky's Chris Froome and Nairo Quintana (Movistar). However, the jury struck those results and sent Nibali back to Italy.
Thank you for reading 5 articles this month* Join now for unlimited access
Enjoy your first month for just £1 / $1 / €1
*Read 5 free articles per month without a subscription
Join now for unlimited access
Try first month for just £1 / $1 / €1