Rapha Supercross returns for 2012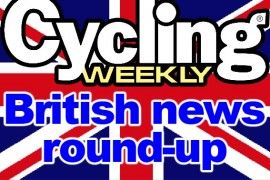 >>>We want to hear what's happening in your area - from racing results to sportives, recreational cycling to commuting. To submit your stories for CW's British news round-up, please email Nick Bull or Richard Abraham>>>
To the clanging of cowbells, the fizzing of Belgian beer and the sizzling of frites, the fun-filled and action-packed Rapha Supercross Series is making its return for 2012 with three rounds across the country.
With live music, elite and amateur racing, and the notorious 'Tequila Shortcut' (where competitors can take a shortcut accompanied by a shot of tequila), the series kicks off on October 20 at Broughton Hall near Skipton before heading to Misterton Hall in Lutterworth a week later.
Want to take a shortcut? Here, drink this first... (Picture: Simon Scarsbrook)


The series concludes with the emblematic Alexandra Palace round on October 28. There is even a 'Wall of Foam,' new for 2012, across all rounds. Information and entries online at www.rapha.cc/super-cross
_______________________________________________________________
Places are filling up fast for the second Giant's Causeway Coast Sportive in Northern Ireland with the September 13 deadline fast approaching.
Run in association with Chain Reaction Cycles, the sportive on September 15 offers three routes of 35, 80 or 115 miles past the landmarks of the Bushmill's Distillery, the Glens of Antrim, and of course the Giant's Causeway itself.
Visit the event website to find out more and to send in your entry.
_______________________________________________________________
Can't get enough frites, beer and Europop? Head down to the Herne Hill velodrome this Sunday, September 9, for the 'Dave
Creasy 6.'
It's a six-hour tribute to the 'Ghent Six' track event in Belgium packed full of racing including an elite madison, the highlight of the day.
Inspired by the Ghent Six, madison racing Belgian style comes to the UK
Best of all, entry is free! There are youth and support races too, plus all the excitement of a track meet with food, drink, and podium girls. Head to www.hernehillvelodrome.com/dc6 for more information.
_______________________________________________________________
Leicestershire based clothing and apparel company 'Velobici' are excited to have opened a pop-up shop for two weeks in Richmond, London, where they are showcasing their range of on and off the bike wear, including their brand new road wear.
With those crisp autumn days on the horizon, there is plenty of lovely merino wool to keep you warm. The shop is located at 2, Kew Road, Richmond, and you can check out the Velobici range online.
The shop will be staying until September 16 and opening hours are 8 til late. _______________________________________________________________
The Strickland Arms in Penrith, has won the inaugural Team Sky 'Vive le Tour' competition and has been crowned the pub that most got into the spirit of supporting the British team at this July's Tour de France.
If bunting, water bottles, French-themed pub grub and organised bike rides weren't enough to win the crown ahead of ten other venues, the pub even held a charity raffle to win 'Bradley,' a six foot tall stuffed bear squeezed into a yellow jersey.
Riders celebrate Wiggins' 2012 Tour win
As a gesture of gratitude, the Team Sky squad racing at the Tour of Britain, which includes Mark Cavendish and Bradley Wiggins, will be popping down the pub after stage three of the race, which ends just up the M6 in Dumfries, to meet the regulars. Orange juices all round!
_______________________________________________________________
Bad weather may have cursed it earlier in the year, but the "Sensa Bikes Witches' Curse" sportive has been rescheduled and will now take place
this Sunday, September 9, in Clitheroe, Lancashire.
Two routes of 45 or 68 miles are on offer at the CTC event, but with 15 climbs and over
7500ft of ascent including the famous Nick O'Pendle in the longer ride, you'll be wishing for a magic spell to get you home.
Merlin Cycles will have their range of Sensa Bikes at the HQ in Clitheroe and the Shimano
Test Wheel fleet will be available free of charge for entrants who register online to help you fly up the climbs like a witch on a broomstick. Head to www.ctcchallengerides.co.uk for more information.
_______________________________________________________________
Entries are open for the 16th annual Glenn Longland 'Downton Classic' near Salisbury.
The two-day event, which comprises a 2.4km prologue, a 42km road race and a 37km time-trial, takes place on the weekend of October 6 and 7 and will be run under TLI rules.
>>>We want to hear what's happening in your area - from racing results to sportives, recreational cycling to commuting. To submit your stories for CW's British news round-up, please email Nick Bull or Richard Abraham>>>
Thank you for reading 10 articles this month* Join now for unlimited access
Enjoy your first month for just £1 / $1 / €1
*Read 5 free articles per month without a subscription
Join now for unlimited access
Try first month for just £1 / $1 / €1
Richard Abraham is an award-winning writer, based in New Zealand. He has reported from major sporting events including the Tour de France and Olympic Games, and is also a part-time travel guide who has delivered luxury cycle tours and events across Europe. In 2019 he was awarded Writer of the Year at the PPA Awards.