Rapha teams up with ASO to grow Etape portfolio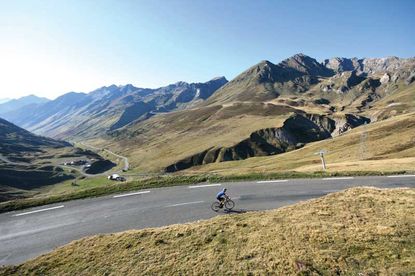 British clothing manufacturer Rapha has signed a two-year deal with Tour de France organiser ASO that will see them assist the French company in growing its mass participation events.
Amaury Sport Organisation (ASO) has organised the Etape du Tour, now through sister company Mondovelo, for the past 18 years, but in 2011 will expand to two Etape du Tours and run a Paris-Roubaix sportive the day before the professional race in April.
Members of ASO met with Rapha in London back in early October to discuss their plans for expansion. Now they have come to an agreement that will see the clothing brand assist the French company with their marketing and communications and produce exclusive products for the events.
it was another bit of good news from Rapha after it was listed at number 50 in the Sunday Times Fast Track 100 at the weekend.
The listing is believed to be the definitive league of Britain's private companies with the fastest growing sales. Rapha's sales are said to be up 72 per cent a year from 2007 to 2010.
The press release said:
Rapha Racing Limited, the London based brand of premium road cycling clothes and accessories, has today signed a strategic partnership agreement with ASO, the owner of the leading road races in the World, including the Tour de France, Paris-Roubaix, Paris-Nice and Liege-Bastogne-Liege.
The two year deal will see Rapha providing marketing and communications advice and producing exclusive products for ASO's growing portfolio of participation events linked to major road races. The focus for 2011 will be on the two Etape du Tour events and the new Paris Roubaix challenge, to be held on 9th April 2011, the day before the classic race.
Rapha and ASO will be working together to enhance these events and engage active sportive riders with the ASO portfolio of road races. As part of the partnership Rapha will design and produce exclusive jerseys for the events.
Yann Le Moenner, Managing Director at ASO, commented:
"Rapha makes the finest cycling clothing in the world and ASO produces the best cycling events in the world, so our paths had to cross one day. We have long admired the way Rapha connects with road cyclists and we are looking forward to a great partnership that I'm sure will inspire thousands of riders."
Rapha Founder and CEO, Simon Mottram, commented:
"I have been riding the Etape du Tour since 2002, before Rapha was launched. Like many Rapha customers, the Etape remains the pinnacle of our riding season and of the sportive year. To be working with ASO on these events is an amazing privilege."
Related links
Blog: Cycling's big business
Thank you for reading 20 articles this month* Join now for unlimited access
Enjoy your first month for just £1 / $1 / €1
*Read 5 free articles per month without a subscription
Join now for unlimited access
Try first month for just £1 / $1 / €1