Rapha to cease sponsorship of Rapha-Condor-JLT in 2015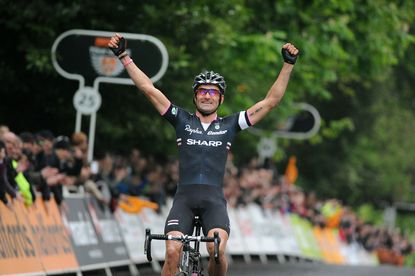 British clothing company Rapha will cease to sponsor the Rapha-Condor-JLT team following the 2014 season, it was announced on Thursday afternoon.
The current UCI Continental team will continue to operate beyond the end of next season with Condor and JLT remaining as sponsors.
However the move brings to and end Rapha's nine year involvement in the British
racing scene which began with the Rapha-Condor team in 2006.
"We are happy to go out on a high, with 2014 being a year of celebration for Rapha, Condor, [team manager] John Herety and all the riders and staff who have worked with us since 2006," said Simon Mottram, CEO of Rapha, in a statement.
"After eight years the cycling market and our business have changed and we have decided that having a UCI registered Continental Racing team is not the best way for Rapha to contribute to the UK racing scene," he added.
"We are exploring other ways in which Rapha can usefully invest in UK racing and further plans will be announced shortly."
The current team began in 2008 when the Rapha-Condor team merged with the Recycling.co.uk-MG XPower squad in late 2007.
Team manager Herety said in the statement: "Rapha have been an excellent sponsor for the team, as well as passionate supporters of our riders. We've enjoyed a lot of success in the distinctive black jerseys, and we will be working to take as many more wins as we can in 2014, before the team continues in a new guise into 2015."
Related links
Uncertainty surrounds Rapha sponsorship of Rapha-Condor-JLT
Thank you for reading 20 articles this month* Join now for unlimited access
Enjoy your first month for just £1 / $1 / €1
*Read 5 free articles per month without a subscription
Join now for unlimited access
Try first month for just £1 / $1 / €1