Renshaw adapts to lead sprint role in new team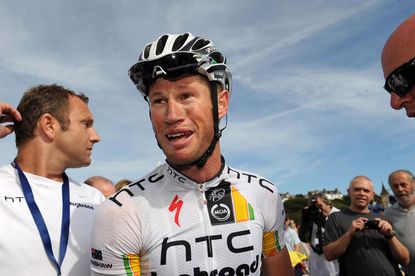 Mark Renshaw is pushing for a Tour de France stage win with new team Rabobank. He currently leads the team at the Tour Down Under in Australia, one year after helping former HTC-Highroad team-mate Mark Cavendish.
The Tour Down Under "is an important race," Renshaw told Cycling Weekly, "but we are fine-tuning for the races ahead."
Cavendish, Renshaw and their team-mates had to leave HTC-Highroad when it folded at the end of last season. The team was unsuccessful in finding a replacement sponsor for mobile telephone company, HTC. Renshaw joined Dutch team Rabobank, where after many years leading Cavendish to sprint wins, he will have opportunities for himself.
"It's been different, a little bit of a change," Renshaw explained. "Since signing my contact with Rabobank, I've prepared for the new approach both mentally and physically. I've changed my training, trying to be more explosive. I worked with Mark Cavendish for three years, I've seen how he handles the pressure, I know how much there is, so I've worked on that as well. I've tried to bring some of my experience over from HTC to Rabobank."
Renshaw will build his Tour de France lead-out train using the Tour Down Under. In Australia, he has Michael Matthews, Tom Leezer and Graeme Brown to form part of his train.
"The lead-out train? I see Graeme as being the last man with his experience, plus we've raced a lot on the track together. We have Tom Leezer and Jos Van Emden as well, both are strong. I've told Michael [Matthews] that if he gives his all for me this year, I will pay him back when he's ready."
Renshaw never won at the Tour de France, but he believes a win there is too late and not enough to race in Australia's Olympic team in London. Controversy already surrounded his non-selection in last year's World Championships team. Matt Goss relied on others for a lead out and placed second behind Cavendish.
"I will go about my way, not thinking about the Olympics," Renshaw explained. "I think Goss is already an automatic selection with his Worlds result, but there's not room for me. I'll go about my business, it's more important that I get results for Rabobank."
The Tour Down Under offers several sprint stages for Renshaw this week. A punchier rider, like his team-mate Luis León Sánchez, however, may win the overall, since the race features a hilltop finish for the first time. On Saturday, the race covers the Willunga Hill four times, the fourth being the finish.
Renshaw finished ninth today in Clare at the end of the opening stage.
"Graeme [Brown] guided me through the finish today," he said. "We have the order sorted with Graeme and Michael [Matthews]. I'll eventually repay them with a victory."
Related links
Tour Down Under 2012: Cycling Weekly's coverage index
Thank you for reading 20 articles this month* Join now for unlimited access
Enjoy your first month for just £1 / $1 / €1
*Read 5 free articles per month without a subscription
Join now for unlimited access
Try first month for just £1 / $1 / €1