Scott Thwaites reflects on 2013 season to date ahead of Prudential RideLondon-Surrey Classic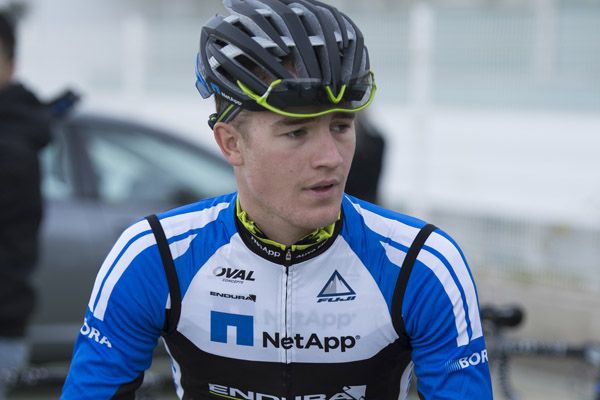 2012 Premier Calendar winner Scott Thwaites says he is pleased with how he has coped during his first season away from the British domestic scene going into Sunday's Prudential RideLondon-Surrey Classic.
The NetApp-Endura rider has clocked up seven top-10 finishes in UCI-ranked events this year, including a second place on the 10th stage of last month's Tour of Qinghai Lake in China.
"I'm pleased with the season so far as I have coped with the increase in training, race programme and level of racing. I've been very consistent and kept a good level of form since the start of the year which is shown in the results and that is what I'm most pleased with," the 23-year-old Yorkshireman told Cycling Weekly.
"I'd like to win a race before the end of the season but having worked for the team in the majority of races this year, I'm happy with the results I have achieved."
En route to seventh in the National Road Race Championships
Six centimetres away

Thwaites almost achieved the biggest victory of his career in China in the middle of July, but narrowly lost out to La Pomme Marseille rider Benjamin Giraud by the smallest of margins.
"It was a 190-kilometre stage with just a third-category climb 60km from the finish. I tried a few times early on to go with moves and after 50km a big move came back.
"I sensed it was a good moment to go so I stepped out and launched solo. I was away alone for five kilometres and then a few more guys came across. I wasn't convinced we would stay away but at the top of the climb we hit a strong cross/tailwind and had three-and-a-half minutes on the peloton and everybody rode full gas to stay away.
"Coming into the finish I stayed with the others as they attacked and then with 250m to go I went for the sprint. Giraud just got me in the finish - I think it was [a] 6cm [gap] on the photo finish."
He was also the second highest non-WorldTour finisher at June's National Road Race Championships, and his participation in Sunday's RideLondon-Surrey Classic is only his second race on home soil in 2013.
"We will see how it goes," he said. "RideLondon and the Tour of Britain are obviously important for me, especially as I don't get to race in Britain much now and I would like to get a good result in a home race.
"I will probably ride the London race in a supporting role and then look to get in good shape for the Tour of Britain depending on whether I ride it or not.
"Obviously I have mainly ridden .1 & .HC-ranked races this year and I think I have done myself justice and proved that I can ride at this level."
Related links
Boris Johnson: "I'll be happy to complete the RideLondon 100 in under 12 hours"
Prudential RideLondon: How the British teams are preparing How the Prudential RideLondon went from bold idea to reality
RideLondon-Surrey Classic provisional start list
WorldTour teams for RideLondon-Surrey Classic
Sam Harrison aiming to make impression at RideLondon-Surrey Classic
Peter Sagan to start RideLondon-Surrey race
Prudential RideLondon details announced
50,000 register for RideLondon cycle challenge