Sharon Laws wins national road race title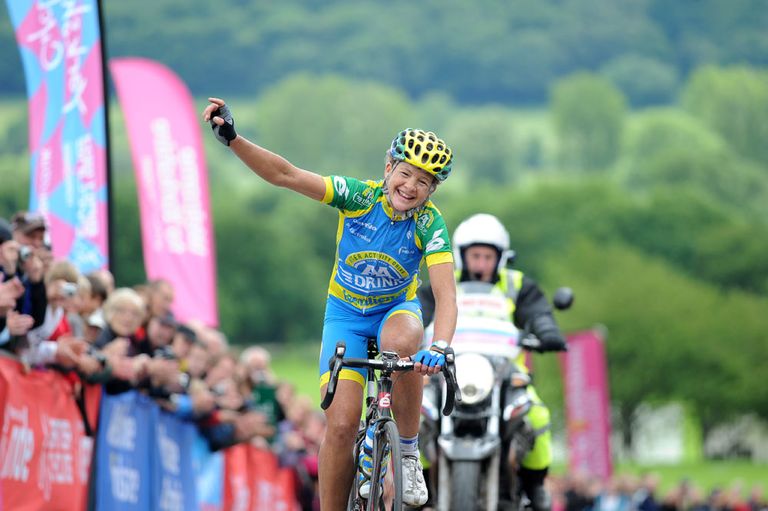 The rest of the riders came in to the finish in small group as the rolling circuit took its toll.
Sharon Laws wins
Sarah Storey
Emma Pooley, Sharon Laws and Lizzie Armitstead on podium
Katie Colclough (Specialized-Lululemon) took the women's under-23 national title. 
Under-23 women's winner
1. Katie Colclough (Specialized-Lululemon)
British road race National Championships 2012 photo gallery by Andy Jones>> 
Laws, who was third last year, escaped on the first ascent of Yearley Moor with teammates Emma Pooley and Lizzie Armitstead, and Nikki Harris. The small group slowly built up a considerable lead as Sarah Storey chased alone behind them.
Result

2012 Women's British national road race championship

1. Sharon Laws (AA Drink-leontin.nl)
2. Lizzie Armitstead (AA Drink-leontin.nl) at 1-36 min
3. Emma Pooley (AA Drink-leontin.nl)  at 1-41
4. Nikki Harris (Young Telenet) at 2-43
5. Sarah Storey (Escentual for Viored) at same time
6. Nicole Cooke (Team Faren Honda) at 9-02
7. Catherine Williamson (Bizhub-SCF) at 9-04
8. Katie Colclough (Specialized-Lululemon) at same time
9. Emma Trott (Dolmans-Boels) at 9-44
10. Natalie Creswick (Mulebar Girl) at 9-51
Peloton
Nikki Harris
Champagne celebration
Pooley, Harris, Laws and Armitstead in break
Laws spent virtually the entire race in the lead, firstly with three other riders then hitting out alone with around 16 miles to go. Soloing to the win was the perfect response to the Olympic non-selection, although she's still been left with a bitter taste in her mouth.
"I don't think this is adequate consolation, but it will certainly help," the AA Drink-leontin.nl rider said. "It was my big dream, I really wanted to go."
Ten time winner Nicole Cooke missed the move but instigated a chase at around the halfway mark. Cooke, who has only won two races this year, was pragmatic after one of her worst results in the nationals since she won it as a 16 year old in 1999, saying that what matters is peaking for the Olympics in four weeks' time.
Sharon Laws won her first senior British national road race title in Ampleforth on Sunday morning, just three days after being left out of the Olympic team.
Nicole Cooke
Related links
British road race National Championships 2012 photo gallery by Andy Jones
Stannard wins British national champs road race
Armitstead and Cooke lead GB women's cycling team